Emirates becomes 100% e-ticket enabled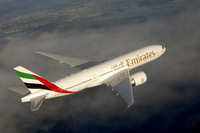 Emirates continues to lead the way in e-ticketing, recently concluding its 100th interline e-ticketing agreement. This means the airline's e-ticketing product is now even more widely available, enabling more travellers to enjoy the benefits of e-tickets when flying with Emirates.
The Dubai-based airline has been 100% e-ticket enabled across all of its online destinations since the end of April, weeks ahead of IATA's 1st June deadline. In addition, Emirates e-tickets are being issued by 10 global distribution systems (GDS) and travel agent systems that span across 70 BSP (IATA billing settlement plan) global markets.
This achievement is no mean feat given the span of Emirates' route network, and the complexity of its global operations which includes markets that have poor technology infrastructure.
Keith Longstaff, Emirates' Divisional Senior Vice President, Commercial Operations Worldwide said: "We are pleased to have fully achieved e-ticketing across our online operations ahead of IATA's deadline, and to have concluded this process with over 100 of our interline partners. Emirates has a dedicated team focussed on rolling it out across all of our global network. It has been a huge undertaking not only because our network was continually expanding, but also because of the complexity of our operations.
"Emirates has been 100 per cent behind IATA's e-ticketing initiative since its inception and we are particularly proud that Emirates' e-ticketing products have been developed in-house, including complex products like e-ticketing for code-share flights and infants."
He added: "Electronic ticketing benefits both the customer and the airline by providing greater convenience, reduced processing time, simplified operations and faster check-in. It is also paperless, and thus greener. Customer response has been extremely positive, and today e-tickets have become accepted as the norm."
Since the inception of e-ticketing in 2004, Emirates has been the leader in the region on developing and implementing e-ticket products. The airline currently operates to 99 cities on six continents, and has announced plans to start services to Guangzhou (China), Durban (South Africa), Los Angeles and San Francisco this year.