New strategic partnership between THAI and SAS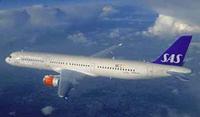 Thai Airways International Public Company Limited (THAI) and SAS Scandinavian Airlines (SAS) recently held a code share agreement signing ceremony at THAI's head office in Bangkok in order to establish an extensive partnership to offer services beyond their destinations. The code share agreement will include services to/from Bangkok-Singapore/Hong Kong/Kuala Lumpur/Sydney from December 15, 2006, and Bangkok-Melbourne/Brisbane/Auckland/Perth from January 15, 2007, as well as to/from Copenhagen-Oslo/Gothenburg/Aalborg/Aarhus from December 15, 2006.
"SAS will continue to offer passengers smooth, seamless travel and a high level of service when flying to and from the above destinations. SAS is extremely pleased to have the opportunity to build on its historically strong and positive relations with THAI to be able to jointly offer our customers the best possible travel solutions and comfort. Travel activity between Southeast Asia/Oceania and Scandinavia has undergone strong expansion in recent years and is expected to grow further. SAS can offer an optimal schedule to provide convenient connections with our intercontinental flights to and from Bangkok in the new Star Terminal at Suvarnabhumi Airport," says Lars Sandahl, Chief Commercial Officer, Scandinavian Airlines International.
According to Mr. Wallop Bhukkanasut, THAI's Executive Vice President, Commercial, "THAI and SAS have shared a long-term relationship which dates back since the founding of THAI in 1959. The code share cooperation between the two airlines will enable expansion of THAI's network to more service points in the intrascandinavian routes. In addition, the code share will enable Bangkok to be the gateway to various destinations and strengthen both the airlines' network as members of Star Alliance. "
This extensive partnership enables THAI and SAS to concentrate on meeting customer needs for a top-quality product and freedom of choice where it really counts - on intercontinental flights. Customers with an SAS Economy Extra Class reservation to our new code share destinations will be seated in THAI's Business Class when connecting to/from Bangkok.
Timetables and other details will be communicated on our websites flysas.com, thaiairways.com.