SAS Business Sleeper now on all intercontinental flights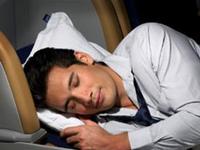 The SAS Business Sleeper is now available for customers on all Scandinavian Airlines' intercontinental flights to Asia and the US out of its Copenhagen and Stockholm hubs.
"SAS now offers a superior business class product, and we have had a very positive response from both customers and the industry, which is the best praise and indication for us," says Lars Sandahl Sørensen, Chief Commercial Officer, SAS International.
The new SAS Business Sleeper is one of the best in the market and offers passengers a 20" wide seat, a 61" seat pitch and 79" of living space. When fully reclined the SAS Business Sleeper creates a 74" long bed with an additional 6" width at the shoulders. Seat features include video and audio-on-demand on a 10.4" screen, an in-built massage function and clever built-in storages for laptops and other items such as a water bottle.
The SAS Business Sleeper seat reclines 170º, creating a comfortable position that is preferred by most customers for sleeping and ensures a good night's sleep.
"SAS is also one of the few international airlines offering passengers a business combination fare with the option to choose the SAS Business Sleeper one way and fly our Economy or Economy Extra the other," says Sandahl Sørensen. "As a new feature we also offer internet check-in for all our intercontinental passengers across all our three classes."
SAS' business class cabin on all intercontinental flights is unique by featuring a buffet bar with snacks and coffee machine for self-service between meals and a handle bar to stretch your back during the flight. The spacious business class bathrooms also feature windows, which are particularly popular with female travellers. All SAS lounges also offer passengers free internet access.
SAS' business concept undergoes continuous development. One such example is the launch of the 'Grab & Go' breakfast in June. Aimed at business travellers who want to enjoy the SAS Business Sleeper comfort for as long as possible, they receive a breakfast bag and coffee when exiting the flight.