Celebrating Finland's special Christmas traditions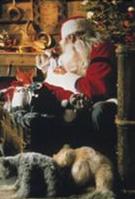 Christmas in Finland is a very special time, with much attention paid to fine food, family fun and beautiful decorations. The Finnish Tourist Board is pleased at this time of year to answer a few of Finland's festive questions.
Q: Is it true that Christmas is a day earlier in Finland?
A: True in the sense that we eat Christmas dinner on Christmas Eve, 24 December. The tradition of sharing is the same, though, and families and friends gather together to share the warm, festive atmosphere of the evening and enjoy the various traditional Christmas dishes.
Q: What's on the menu?
A: Oven-baked ham, root vegetable casseroles, mixed beetroot salad, liver casserole and pâtés, meat in aspic, gravad lax or smoked salmon, fish roe and herring dishes constitute the basis of the traditional Finnish Christmas dinner.
Q: We're not quite ready for Christmas dinner yet, so what happens in the time leading up to the big celebration?
A: We have just begun the period of Advent, which includes the four Sundays leading up to Christmas. This is the time to start making al those vital preparations for Christmas: cleaning and decorating the house, baking, sending Christmas cards, buying and wrapping presents and planning what to serve at Christmas dinner. It's also a time to put up the Christmas lights on the shopping streets and to gaze longingly at all those delicious treats in shops and market halls.
Q: Is Santa Lucia Day important in Finland?
A: December 13th is Santa Lucia Day. The festival of light came first to Finland's Swedish-speaking minority but is well known now throughout the country. The festival involves a girl playing the part of Lucia, wearing a white gown, with a wreath on her head. The wreath contains lighted candles to symbolize light and hope at the darkest time of the year.
Q: You have made Santa Claus your own, but is there anything specifically Finnish about the jolly chap in the red suit with the white beard?
A: The Finnish equivalent of Father Christmas is in fact a billy goat! Yes, seriously, the "joulupukki" has his origins in the old Nordic traditions of dressing people up in animal disguises. But his thick fur-lined coat worn inside out with a mask and horns understandably didn't prove universally popular with young children. As for the wider-known image of Santa Claus, we have the American-born artist Haddon Sundblom (1899-1976) to thank for that, as he created the figure to be used in Coca-Cola advertisements during the 1930s. Perhaps we have had some sway on Sundblom's creativity, as his father way born in Finland.
Q: Where do the elves fit in, then?
A: In the original old myths of Finland, elves (or 'gnomes', to be more accurate) were guardians and good spirits of a household. They were believed to live in saunas, barns, stables and cowsheds. Families always took plenty of food out for them, to keep them happy and hopefully to bring fortune and prosperity on the household.
Q: You leave it late to fetch in a good Christmas tree, don't you!
A: It's the Finnish tradition to go out into the forest, choose a tree, bring it in and decorate it on 24 December. These days many families choose to fetch a tree some while before this.
For more information, visit visitfinland.com.