VLM wins prestigious Anglo-Dutch Award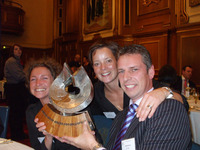 VLM Airlines has been awarded with the 'Anglo-Dutch Award for Enterprise 2007' at the Clothworkers' Hall in London.
During the 116th Annual Luncheon and XXVI Anglo – Dutch Awards Presentation at the Clothworkers' Hall in London, VLM Airlines was awarded the prestigious 'Anglo-Dutch Award for Enterprise'. The award was handed over by Mr. Ben Verwaayen, CEO of British Telecom to Johan Vanneste Managing Director of VLM Airlines.
After thorough deliberating, the jury decided to award VLM Airlines with this prestigious award for the growth the airline has seen on the Anglo-Dutch market over the past years.
Michiel van Deursen, Director of the NBCC (Netherlands British Chamber of Commerce) comments: "VLM Airlines is a prime example of a well focussed company, with a clear strategy within both the Dutch and British market. Their results and commitments to both markets have made them a well deserved winner of this award."
In 1994, VLM Airlines started with its Rotterdam-London City route and created its Dutch subsidiary VLM Nederland BV. Today, 13 years later, we offer 17 flights every weekday to London City Airport from three different airports in The Netherlands; Amsterdam, Rotterdam and Groningen. A well defined strategy, focussing on time saving travel solutions for the business travellers has become our trademark and one that is much appreciated by both large companies as independent business travellers.
VLM Airlines is well known amongst Anglo-Dutch multinationals who have a strong need for frequent travel on both ends of the routes. Different sectors are well represented amongst our loyal customer base such as the oil and petrochemical industry, law firms, the retail industry and the banking and financial sector.
Johan Vanneste, Managing Director of VLM Airlines comments: 'we are extremely proud to receive this award and to have achieved excellent results in the Anglo-Dutch markets. These results would not have been possible without the dedication of all our employees, and the loyalty of our growing number of customers to whom I would like to dedicate this award."