VLM Airlines celebrates diamond studded 15th birthday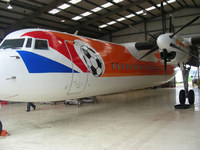 To celebrate the impressive levels of passenger traffic on its routes between London City Airport and the Netherlands, VLM Airlines has repainted one of its aircraft orange, the colour of the Netherlands. The Fokker 50, which was unveiled at Amsterdam Airport Schiphol, will operate mainly on the London City-Amsterdam route.
VLM Airlines, which focuses on providing regular and convenient services for business travellers, began flying between London City and Amsterdam three years ago. 21% of passengers on the VLM network travel on this route.
VLM Airlines is also enjoying high passenger levels on its services to from Rotterdam. In total, VLM Airlines' routes from London City to the Netherlands, which are served by 21 flights every weekday, now represent more than 45% of the carrier's total passenger traffic.
Johan Vanneste, Managing Director of VLM Airlines, says: "We are marking the success of VLM Airlines' services to and from Holland by repainting one of our aircraft orange - the country's national colour. We wanted to take this opportunity to express our support to the Dutch team because unfortunately the Belgian team did not succeed in qualifying for the European football championship. VLM Airlines not only operates aircraft that were built in Holland, but many of our staff are also Dutch. The 'orange madness' has also struck our airline."
The airline is renowned for its high level of service on board, its punctuality, and swift check-in procedures. Thanks to these elements, corporate travellers can travel in very comfortable conditions from the heart of London to Amsterdam, Rotterdam or Groningen (via Amsterdam). In addition, the airline also operates daily flights from Rotterdam to Manchester and Hamburg. During the summer months, VLM Airlines also flies from Rotterdam to Guernsey and Jersey.
BCO Media, a Luxemburg-based company that specialises in on-board advertising and aircraft liveries, designed the orange aircraft concept.