bmi upgrades its premium economy cabin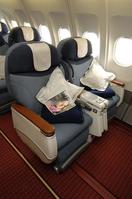 bmi has embarked upon an extensive upgrade programme to transform its premium economy cabin with a market leading seat. The new premium economy seats boast an impressive 49" seat pitch, a 50 degree recline and 21" seat width, with electronic leg rest and lumbar support.
Perfect for both business and leisure passengers, premium economy offers telephone, laptop power point and dataports facilities plus an individual 9" arm stow screen.
The cabin will feature just 30 seats, with a 2-2-2 configuration, reinforcing the cabin's exclusivity.
On board bmi's Airbus A330 aircraft, premium economy passengers enjoy a separate cabin with its own dedicated cabin crew, offering a highly personalised service. A three course dinner menu featuring a choice of delicious international cuisine is also distributed.
Lisa Meredith, bmi marketing manager, consumer leisure, comments: "It has been a strategic move to upgrade our premium economy cabin on all longhaul flights. We want to provide an exceptional in-flight experience for passengers choosing to travel with bmi. The premium economy cabin has been significantly improved and now offers the best seat on the market."
bmi's longhaul network from Manchester includes flights to Chicago, Las Vegas, Barbados and Antigua and from London Heathrow to Riyadh and Jeddah.
For further information and lowest fares, visit Flybmi.com.