bmi regional's new Aberdeen - Kristiansund route takes off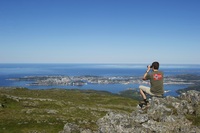 Flights connecting the North-east of Scotland and a key oil and gas location in Norway have taken off, operated by bmi regional.
The scheduled air link between Aberdeen International Airport and Kristiansund in Norway connects two important bases for oil and gas activity in the North Sea and will operate five times a week, Monday to Friday, with a 49-seat Embraer 145 jet.
Kristiansund is the major oil and gas city on Norway's mid north-western coast. Both Shell and Statoil have offices in the city from where they serve their offshore installations at Haltenbanken, one of the most northerly subsea oil and gas provinces in the world. There are currently around a dozen offshore installations (including subsea structures) being serviced from Kristiansund and this will increase to over 30 by 2020, including the building of a 500 km gas pipeline.
The Kristiansund route is the second new scheduled service launched by bmi regional from Aberdeen International Airport in the past year. Its Bristol service started in October 2012 and the airline also operates from Aberdeen to Esbjerg in Denmark, Manchester and Norwich.
The airline's route network now serves 24 destinations across eight European countries, operating more than 450 scheduled flights a week in summer 2013. bmi regional is already active in the Scandinavian market and operates UK services out of Gothenburg in Sweden and Billund, Copenhagen and Esbjerg in Denmark.
Ian Woodley, chairman of bmi regional, said: "bmi regional has a longstanding relationship with the oil and gas industry based upon our scheduled services out of Aberdeen and the bespoke charter solutions we provide in the UK, Scandinavia and across Europe.
"Our newest route out of Aberdeen links two important energy industry locations and will support business activity on both sides of the North Sea. In addition to business travel there are established tourism and cultural connections between the North-east of Scotland and Norway, which we anticipate will result in additional leisure traffic," said Mr Woodley.
Scotland's Minister for Energy, Enterprise and Tourism, Fergus Ewing said: "This new air route with Norway will help build business links between oil services companies in both countries. It also provides a boost for tourism in the north-east. Aberdeen Airport is an essential business and tourism gateway to the north east, which is why this new route will open the door to people and businesses travelling to Scotland."
Carol Benzie, commercial director at Aberdeen International Airport, said: "This is an exciting route launch for the airport team and marks the first time that these two cities have been directly connected. Of course the benefits for the energy industries at each end of this route are clear, but we also hope that it will provide an opportunity for North-east tourism – attracting new visitors from Norway to our region. We wish bmi regional every success."
Tom Smith, chairman of Aberdeen City and Shire Economic Future (ACSEF) said: "bmi regional's Kristiansund service should create new opportunities for even closer working between the oil and gas industries in the UK and Norway. The airline's decision to launch this route is another endorsement of the strength of our region's economy as the North Sea continues to be a focus for significant investment."
Robert Collier, chief executive of Aberdeen & Grampian Chamber of Commerce said: "Norway is a key trading partner for North-east businesses in the energy sector and this new air route should create new opportunities for business growth at a time of on-going high investment levels in both the UK and Norwegian sectors."
Steve Harris, chief executive of VisitAberdeen said: "bmi regional's new route will support the development of new business and leisure traffic into Aberdeen and the surrounding region from the important Norwegian market. It is great to see the airline developing its services out of Aberdeen."
David Rennie, international head of oil and gas at Scottish Enterprise, said: "Norway is the fourth largest market for Scotland's oil & gas supply chain which was worth an estimated £690 million in international sales in 2011/12. This route has great potential for supply chain companies looking to increase trade in this key market, as well as for Norwegian investors looking for opportunities in Scotland."
Ole Kristian Pettersen, Kristiansund Airport Manager said: "The business and social links between Aberdeen and Kristiansund will be strengthened by this route. Having a daily connection will be efficient for the business market and hopefully the residents of both regions will take this opportunity to explore the new destination."
Ellen Engdahl, manager of the Kristiansund region's economic development agency, said: "We are very glad to welcome bmi regional to Kristiansund as the first direct international route on a regular basis. The link between Aberdeen and Kristiansund is very promising, both in regard to the oil and gas industry and the leisure and tourist market in both regions. bmi regional's fleet and network offer exciting opportunities."