Kebony sea pool for city swimmers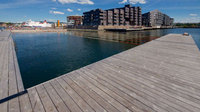 Oslo is currently embarking upon one of the most adventurous harbour regeneration projects ever undertaken in Europe. The downtown waterfront, located in the centre of Norway's capital, has already begun its transformation into a new cultural and social hub and has recently seen the new sea bath in Sorenga completed. This publically accessible park and bathing complex is entirely decked in sustainable Kebony wood and offers visitors the opportunity to enjoy a 190m long seawater pool, along with a recreation area, stairs down to the sea as well as a separate children's pool. All parts of the area are designed with full disability access. The structure weighs 4,650 tons and is about 3,700 square meters large.
The waterfront renewal project, known as 'Fjord City', comprises of more than 2,260 km², spanning from Frognerkilen, West of the city, to Sydhavna in the South. The regeneration will transform the area into a cultural centre for the city - home to the iconic Oslo Opera House - and aims to reconnect the city with the sea; providing residents and visitors alike with greater access to public spaces, in addition to creating new housing, recreational and commercial areas. The developments are due to be completed in 2030.
The scale of this development is so vast that the work will continue for a number of years, although some new districts, such as Bjorvika which will provide 5,000 new homes, 20,000 local jobs and the new sea bath, have already seen a large proportion of regeneration work completed. Beyond the provision of new homes, the area has seen significant investment in infrastructure, with a new harbour-front promenade, made from sustainable Kebony wood, providing space for shops, cafés and restaurants alongside a marina. The Sorenga area is an especially unique part of the Bjorvika district as it is built on an old harbour pier, which stretches out into the Fjord looking out over the water on three sides and boasting spectacular views of the city and the Opera House.
All public areas were designed to be eye-catching but also long-lasting and environmentally friendly. Therefore the decision was made to build the decking surrounding the sea bath and throughout the park from sustainable Kebony timber. Developed in Norway, the patented Kebony technology is an environmentally friendly process, which modifies sustainably sourced softwoods by heating the wood with a bio-based liquid. By polymerising the wood's cell wall, the softwoods permanently take on the attributes of tropical hardwood including high durability, hardness and dimensional stability.
The park furniture is also made using Kebony and is built into the deck itself as an integral part of the structure. Beyond environmental concerns, Kebony was chosen to enhance the modern aesthetic and complement the restrained colour pallet of the development with its dappled silver-grey patina, which has developed over time due to natural weathering.
Mette Valen, Team Leader Norway at Kebony added: "We at Kebony are very happy to have been a part of such an important, large scale development in Oslo. The finished project looks wonderful and the combination of a really clear design idea and high quality material does a lot to show the ambition and flair of Norwegian design and innovation."