Enjoy a whale safari and the Northern Lights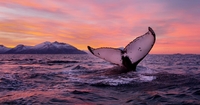 Embark on a brand new Arctic adventure to Norway with Taber Holidays this winter and witness two of nature's greatest sights while spending time at sea. With an included whale safari and Northern Lights cruise this tour is perfect for those who love being on the water.
Based in the Arctic capital of Tromso, the four-day 'Whale Safari and Northern Lights' package really offers the chance to get up close to nature. Both orcas and humpback whales are regularly spotted during the whale safari as they come close to the coast to feed during the winter months. Other forms of wildlife such as sea eagles and seals can also be seen. The excursion lasts for about six hours and includes a meal of Arctic tapas onboard the day cruiser.
Those desperate to catch a glimpse of the enchanting aurora borealis will have an excellent chance on the Northern Lights cruise. Departing from Tromso harbour, guests will board a small catamaran carrying a maximum of 12 passengers, providing a more personal experience. As the boat pulls away it offers a lovely view of Tromso by night, but as it leaves the bright lights of the city behind, it sails in darkness giving guests an excellent chance of seeing the Northern Lights should they appear. A delicious fish supper is served on board.
Taber are also offering an optional reindeer sledding and Sami culture experience at a cost of £142pp. Guided by Sami reindeer herding families, guests can enjoy tales of how the Sami lived in times gone by and how they live today. They can also experience reindeer sledding, lasso throwing and traditional Sami food.
There is also plenty of time for guests to explore the fascinating city of Tromso, often referred to as 'Paris of the North'. Packed with shops, cafes, bars and restaurants, it is also home to the spectacular Arctic Cathedral and Polaria, an Arctic-themed experience centre.
Prices for the four-day trip start from £940pp and include flights from London Heathrow to Tromso, via Oslo, transfers, accommodation with breakfast, the Northern Lights Cruise and Whale Watching Safari. Based on two sharing. Departs daily from 2 November 2014 until 29 January 2015.
For more information, visit taberhols.co.uk.