Kebony gives its strength and durability to Norway's most remote mountain refuge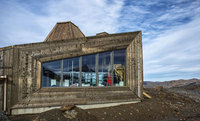 Norway added its 500th hut, the Rabothytta, to its national network of refuges for trekkers. This most remote of Norway's huts, flanked by the harsh rocks of the Okstindan mountains and in the shadow of northern Norway's highest peak – Oksskolten. The hut is a significant landmark in the Norwegian Trekkers Association's long history of providing refuge to those enjoying the wonders of Norway's back country. Its isolated situation presented a specific set of architectural, design and functional challenges, creating an adventure for the construction teams and for trekkers who will seek refuge under its Kebony roof.
The design was conceived by Norwegian architects, Jarmund/Vigsnæs, who envisaged a compact structure that could be enveloped by the wind and the weather without any protruding segments. It was also important for the architects to grasp the exterior and embed it within the design of the building so that trekkers can still experience the natural wonder of the setting whilst sheltered from the weather. The Kebony wood that engulfs the roofing will in time develop a patina to complement the grey rocks of the mountains and the façade facing the flat lake exhibits floor to ceiling glass, providing a feeling of contact with nature even when indoors. The internal space is designed to create an intimate feel for all group sizes, divided into modules that can be opened and closed to create small and big spaces.
At 1,200m and many kilometers from the nearest road, the site is without any infrastructure. For this reason the construction relied heavily on resources and manpower available nearby and materials had to be light to be helicoptered to the site. For this reason materials including Norway's locally produced Kebony wood were selected in preference of heavier materials such as steel. The construction team, many of whom were local volunteers, hiked and skied to the site where they endured winter storms and had to take refuge in the hut overnight.
Ane Sonderaal Tolfsen, from Jarmund/Vigsnæs said: "We wanted the hut to be a precise object standing inconspicuously on the edge of the lake, blending into the mountains and allowing the wind to sweep uninterrupted over the seamless, compact exterior. The Kebony-clad roof will provide lasting shelter that will mirror the rocky surroundings. This project has been brought to fruition thanks to the involvement and support from the surrounding communities, and the provision of expertise and materials."
Adrian Pye from Kebony added: "This project has really captured the public's imagination because of the incredible access to Norway's backcountry. This is one of the toughest huts to reach in Norway and is exposed to the harshest of nature's elements. The high performance Kebony wood that seals the roof of the building is durable and weather resistant; providing shelter and protection to trekkers without the need for maintenance."
For more information, visit kebony.com.