Time flies when you're lying dowm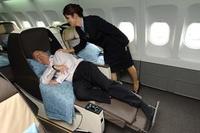 bmi has undergone a significant enhancement to its longhaul product offering, with the introduction of flat beds in the business. The new beds boast a generous 26" seat width, 6" more than BA, United and Saudi, and a magnificent seat pitch of 78" – 80".
Contemporary in style, the beige and chocolate brown leather seats with duck egg blue cotton quilts and pillows offer passengers comfort and style while travelling in the business onboard bmi's A330 Airbus.
Ideal for business passengers, bmi's flat beds feature telephone, laptop power point and dataports. An improved in-flight entertainment package has also been introduced by bmi, and can be enjoyed via the individual 15" seat back seats.
Complementing the introduction of flat beds in the business is bmi's experienced onboard chef, who freshly prepares restaurant quality food from a specially created menu in the onboard galley kitchen.
Lisa Meredith, bmi marketing manager, consumer leisure, comments: "As a business purpose airline, we are confident that the introduction of flat beds in the business cabin will prove popular with our customers.
"The combination of the new beds and the onboard chef positions bmi as a market leading airline offering an unrivalled business cabin product," Lisa adds.
bmi's longhaul network from Manchester includes flights to Chicago, Las Vegas, Barbados and Antigua and from London Heathrow to Riyadh and Jeddah.
For further information visit Flybmi.com.