Ockenden Manor retains Michelin Star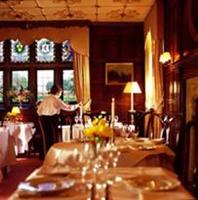 The restaurant at Ockenden Manor, the country house hotel at Cuckfield, West Sussex has retained its star in the latest edition of the famous Michelin Guide and remains one of only two restaurants in Sussex to achieve the prestigious award.
Ockenden has established a reputation for locally sourced, traditional cuisine. Head chef Steven Crane, from the nearby village of Balcombe, has created a menu that perfectly compliments the wood-panelled ambience of the hotel and cleverly mixes innovation and tradition and the restaurant continues to attract more and more customers.
Ockenden is a member of Historic Sussex Hotels and Martin Hadden, executive chef of the group, said the retention of the coveted star was just reward for the fine food that Stephen Crane and his team continue to produce." The news of Stephen's achievements and fine menu at Ockenden is spreading and many people from outside Sussex looking for a memorable meal are coming here," he said. "The long established Michelin Guide awards restaurants between one and three stars, and they are coveted. Getting one, or more, can create a legend; losing one can result in significant loss of business."
Other hotels in the Historic Sussex Group, Bailiffscourt Hotel and Health Spa at Climping and the Spread Eagle Hotel and Health Spa at Midhurst, are also benefiting from Ockenden's culinary achievements with the restaurants at both developing an increasing reputation for fine dining.
Ockenden Manor is a classic Elizabethan country house and lies at the end of a country lane, in one of the prettiest villages in England. Set in beautiful grounds with views across the South Downs, the hotel has twenty two individually decorated, sumptuous suites and provides the relaxed atmosphere of a private country house.
Ockenden is the perfect location from which to explore the historic and cultural attractions of Sussex which include the town of Lewes, a town full of antique and craft shops and second hand booksellers, Glyndebourne Opera House, many beautiful National Trust and other gardens open to the public and some of England's best known vineyards. Nearby Brighton is famous for its Regency Pavilion, seaside attractions and some of the best shopping on the south coast.
For further information visit HShotels.co.uk. All rates are subject to availability.