Give your body the holiday of a lifetime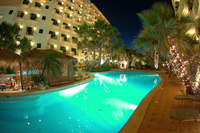 Visit Malta and experience the Mediterranean's first Wellness Rejuvenation Rooms at the Fortina Spa Resort. Be pampered in the Fortina Spa, dine in the Fortina's award winning restaurants and have the chance to explore Valletta and Medina.
The Wellness Rejuvenation Rooms are equipped with the latest sleep, wellbeing and fitness equipment including your personal Power Plate. At the Fortina you can experience all the fun and luxury of an All Inclusive holiday, in a stunning location and treat your body to the healthy indulgence it's been craving.
"There are no riches above a sound body" said the Apocrypha, Ecclesiastics 30:16S.
The Wellness Rejuvenation Rooms offer the latest technology to help revitalise your body and mind by creating the perfect environment to soothe you into a deep healing sleep, leaving you to wake feeling refreshed and invigorated.
In a Wellness Rejuvenation Room you will find:
- Magnetic mattresses, which magnetise your entire body, relieving it from all aches, pains and stress. The proven benefits are numerous and cover everything from encouraging deep healing sleep, to aiding the lymphatic system to release toxins.
- Magnetic pillows, which reduce neck and shoulder pain and stimulate circulation resulting in healthier blood with increased oxygen and nutrients. It's like having an all night facial!
- Far-Infared Technology which balances the temperature of the bed for added comfort.
- Nikken anti-bacterial bedding that kills dust mites which is a great relief for anyone who suffers from asthma or sinus problems.
- A Power Plate, which can give you the equivalent of a full body workout in just 15 minutes, benefits include improved blood circulation, muscle tone, cellulite reduction and weight loss.
- A water de-ioniser to filter all the water in the bathroom for an invigorating, soft, purified, mineral rich, perfectly PH balanced shower.
- An air purifier, which removes contaminants from the air, great for allergy sufferers and asthmatics giving mountain fresh natural air indoors!
If you want to take your health holiday to the next level you can choose to dine in the resorts Taste Restaurant where a healthy menu has been carefully created by the hotel's Executive Chef and a leading UK Nutritionist. Each of these well balanced, delicious, dishes have the nutritional values printed alongside them so you can be in control of what you are eating.
If your main goal is to lose weight and get to grips with your over eating there is a Slimming Programme available which offers tests, monitoring and support throughout your stay to help you achieve your goals. We all know that it's not what you eat it's why you eat and life coaches are on hand to help you conquer any issues you may have, motivate you and get you on the right track.
You can indulge in conventional and alternative spa, beauty and fitness therapies to help reduce cellulite, detox and just feel all round fantastic. There is a choice of five salt water and regualr swimming pools to choose from so you are spoilt for choice. You can take walks through the stunning, historic town of Valletta and be inspired by the beauty of Malta and the charm of the people.
If you are struggling with a more serious physical problem and need some rehabilitation and TLC there are experienced physiotherapists and nurses on hand with all the latest professional equipment to get you back on top form. You are sure to come home feeling and looking better than ever.
Spa entrepreneur and Director of Fortina Spa Resort, Michael Zammit Tobona says:
"We are really excited to introduce the Wellness Rejuvenation Rooms to the Fortina Resort as it offers our guests an even wider range of health benefits which they can access in the privacy of their own room. We are always pushing boundaries and like to offer the most advanced technologies available on the market to ensure that those seeking serious recuperation from the strains of modern life get just what they are looking for".
The Fortina Spa Resort is opening 27 Wellness Rejuvenation Rooms in 2008. For those who wish to take luxury to new heights, four of the Therapeutic Spa Bedrooms which already offer a hot tub on the balcony, sauna, hydrotherapy bath, Stressbuster and Dermalife machines will also be kitted out with the same facilities as the Wellness Rejuvenation Rooms. What better gift could you give to the body that has carried you through life this far….
Cost of Wellness Rejuvenation room from June starts at £769 for return flights from Manchester, Gatwick, Heathrow, 7 night All Inclusive stay, a choice of a la carte meals in 6 restaurants, drinks, 2 Thalasso pool treatments per day and 1 free daily Spa Sante session.
For more information and bookings, visit hotelfortina.com.