The Clubhotel Riu Karamboa opens its doors in Cape Verde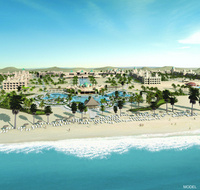 RIU has just inaugurated the ClubHotel Riu Karamboa, the Cape Verde island of Boa Vista's first ClubHotel and the chain's third in the country. The 750-room, five-star resort is located right on Praia de Salines beach and joins RIU's two other resorts on Sal Island: ClubHotel Riu Funana and ClubHotel Riu Garopa.

The new hotel has more than 140,000 square metres of gardens and dunes where guests can enjoy the generous adult swimming pool, children's swimming pool, space for relaxing and zones for sports such as volleyball or tennis. The resort also offers a chance to enjoy nautical activities, such as windsurfing, diving, kayak and snorkelling.

Cuisine is one of the key features at the new ClubHotel Riu Karamboa, as it always is in RIU establishments. On this occasion, the hotel offers an international buffet and show cooking in "Santiago", its main restaurant. It also boasts three à la carte restaurants specialising in Cape Verde, Asian and African cuisine.

The hotel being inaugurated today pays special attention to the family's youngest members, which is why it is offering RiuLand, a new concept in children's activities and entertainment created by RIU's professionals this very year. RiuLand is a programme based on fun outdoor activities in groups adapted to children between the ages of 4 and 12.

The inauguration of this hotel, which took place on the 30th of October, is a clear sign of RIU's commitment to Cape Verde, since Boa Vista Island, despite being the archipelago's third largest, has lacked major infrastructures and international companies until now. Thus, the ClubHotel Riu Karamboa has already become a frame of reference among the island's holiday hotels and hopes to reap as much success in the different European markets as well as in RIU's resorts on Sal Island.

For more information log on to Riu.com.