Marco Polo Hongkong Hotel sets Guinness world record!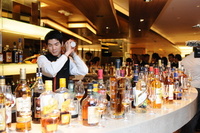 Marco Polo Hongkong Hotel's Lobby Lounge was conferred the distinction of 'Bar with the World's Most Varieties of Rum Commercially Available' by Guinness World Records. Lobby Lounge's selection of 102 rum varieties from different parts of the globe were individually checked and verified in an adjudication event led by Ms. Angela Wu, official adjudicator for Guinness World Records.
Witnessed by members of the press, hotel guests, and loyal patrons of Lobby Lounge, the adjudication process culminated in the presentation of the Guinness World Record certificate to Mr. John Girard, General Manager and Area Director, Marco Polo Hongkong Hotel.
"This is indeed an exciting milestone for us. Not only were we able to put Marco Polo Hongkong Hotel on the map with this prestigious distinction – more significantly, this world record lends a significant boost to our efforts of promoting a greater appreciation for rums as a popular and truly distinctive spirit," said Mr. Girard, himself a rum aficionado.
Throughout the adjudication event, guests were treated to an exciting selection of classic and signature rum cocktails, along with sampler shots of Lobby Lounge's 102 rum varieties.
Boasting premium and exotic brands from different parts of the globe, Lobby Lounge's rum selection includes English Harbour Dark Rum from Antigua and Barbuda, Foursquare Spiced Rum from Barbados, Goslings Family Reserve Old Rum from Bermuda, Barcelo Imperial 10 Years from the Dominican Republic, Plantation Grenada 1998 from Grenada, Reserve du Domaine Barbancourt 15 Years from Haiti, J. Wray and Nephew Overproof White Rum from Jamaica, Trois Rivieres White from Martinique, Ron Zacapa Centenario 23 Years from Guatemala, and Bacardi Solera 1873 from Mexico. Most expensive among the selection is the El Dorado Rum 25 Years, referred to as "liquid gold of Guyana" and one of the smoothest rums ever produced.
Further details on Marco Polo Hotels are available at Marcopolohotels.com.