Escape the Euro Zone with Mamaison Hotels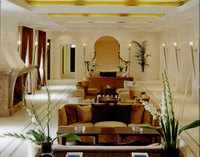 Mamaison Hotels (mamaison.com) has unveiled some great prices this winter to help British visitors fight the credit crunch. From the beautiful city of Prague and the historical city of Budapest to the diverse city of Warsaw, Mamaison Hotels show that it pays to escape the Euro Zone this winter.

PRAGUE
Prague, steeped in history and culture, is considered one of the most beautiful cities in Europe. Suffering considerably less damage than its neighbours in WWII; Prague has retained much of its historic architecture depicting its diverse history; from Art Nouveau to Baroque, Renaissance, Cubist, Gothic, Neo-Classical and ultra-modern.
Next to the business heart of the city the Mamaison Riverside Hotel stands out with its unique Art Nouveau façade.

You will fall in love with the place the moment you step in – stunning Belle Epoque interiors, 81 cosy and charming suites and rooms, custom-made lavish furnishings and all modern facilities. The Mamaison Riverside Hotel is situated on the bank of the Vltava River and is within walking distance to the National Theatre, Charles Bridge and many architectural and historical treasures of Prague.

Prices from 2,800 CZK (£90) per person per night.

BUDAPEST
A dream stay in Hungary is the perfect way to take in the cultural grandeur of a beautiful city. Take in its World Heritage Sites including the marvels of the Danube banks, the Buda Castle Quarter and Andrássy Avenue; wander the city's streets and lose yourself in a city steeped in excitement and culture.

The Mamaison Andrassy Hotel is a little gem, located in an exclusive Embassy neighbourhood just off Pest's Andrássy Avenue. With spacious, beautifully designed rooms and suites, Andrássy Hotel is a unique 5 star gourmet boutique hotel and Hungary's first acceptance to the collection of "Small Luxury Hotels of the World". The Mamaison Andrássy Hotel was designed and built in a Bauhaus style, by Alfréd Hajós in 1937. Completely renovated in 2007 it offers genuine and caring services for today's traveller.

Prices from 26,780 HUF (£83) per person per night

WARSAW
A European break from a busy life is the perfect way to escape, relax and enjoy yourself! Stroll aimlessly through the famously beautiful Lazienki park; or wander the streets of one of the most culturally diverse cities in Europe.

The Mamaison Le Regina Hotel is an elegant and sophisticated five star hotel, with sixty-one air-conditioned rooms on three levels of a historic building in Warsaw's Old Town, which was faithfully restored to the style of an eighteenth century palace and outfitted with all the modern amenities. Centred on a lush courtyard garden, it is somewhat reminiscent of a peaceful monastery. The comfortable lobby and lounge welcomes visitors with a cozy fireplace. Guests can relax in a spa area, which features a swimming pool, fitness equipment and a sauna.

Prices from 385 PLN (£84) per person per night.

For further information or to book visit Mamaison.com.