New England style comes to Scotland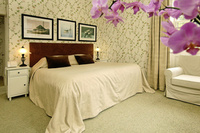 The Lake of Menteith Hotel in Perthshire has unveiled its £400,000 refurbishment, bringing New England style to the shores of Scotland's only lake. Purchased in May 2005 by hotelier and former owner of The Buttery, Ian Fleming, The Lake of Menteith Hotel enjoys a unique waterfront setting at the Port of Menteith, only an hour's drive from Glasgow and Edinburgh.
Alongside a complete refurbishment of the public areas, restaurant and bedroom stock, the hotel also now features a stylish Malt Vault for whisky sampling as well as a brand new Port Bar for guests and visitors. Decorated in the warm and welcoming style of a classic New England waterfront hotel, the muted tones and extensive use of seasoned local timbers and stone are designed to perfectly compliment the unique location.
Ian Fleming commented; "We always intended the hotel to be entirely in sympathy with its surroundings, to be of the place as well as in it. The public spaces are open plan so the lake is always in sight and we've used tongue-and-groove panelling and warm natural materials to achieve a pared-down eastern seaboard style. The service is primarily friendly and customer focused, though underpinned by professional standards and the food punches well above its weight. Head Chef Michael Hobbins was previously onboard at The Buttery and provides simple but delicious food at lunch time and stunning dishes in the evening. With Michael, quality produce and flavour are fundamental, always keeping it understated"
Attention to detail is key in the new styling at the Lake of Menteith. Beneath the roof of the restaurant, two hand carved life size Canadian Geese, commissioned from New Jersey sculptor Lance Lichtensteiger, are suspended in flight. Elsewhere, model boats, wooden fish, binoculars on window ledges and timber lecterns harmonise with the setting. Many of the refurbished bedrooms boast print wallpapers, prints and paintings from the United States, while original features such as cornices and timber window surrounds lend character.
Dawn Norman of Crieff-based DGN Interior Design collaborated with Ian Fleming on the project and the pair opted, where possible, for the real deal. Authentic Lloyd Loom chairs furnish the restaurant and lounge, while original pieces by Scottish artists Claire Harkess, Colin Bullock and Sam MacDonald enhances the lakeside mood.
The Malt Vault has been custom built in solid oak, with every bottle individually lit from its base. For discerning whisky buffs, the hotel stocks a limited range of unique Malts, held under lock and key in this smart showcase. Cask strength 1977 Glenlivet, 40 yr old Bunnahabhain, 30yr old Highland Park, 30yr old Talisker, Macallan from 1959, 1967, 1969, 1970 and 1974, Bowmore 37, 34, 25 and 16 yr old and Glengoyne 21 yr old are just some of the malts on offer and all are available by single measure. Guests taste and buy on invitation.
Fleming concluded; "Our vision has been to create a hotel which fulfils our idea of the perfect place to go and stay. The Lake of Menteith Hotel now has an understated New England style which harmonises perfectly with its unique surroundings. There is a certain peace about the place which our styling sits comfortably with as you couldn't possibly compete with the location. My own time spent working in the States has provided rich inspiration for the refurbishment and we've been delighted that guests enjoy it as much as we do."
For more information, log on to Lake-hotel.com.