Rotana's Centro Hotels to open in October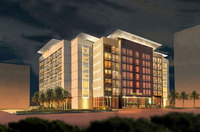 Rotana, the leading hotel management company in the Middle East and North Africa, has announced the opening of the first two 'Centro Hotels by Rotana' in October 2009 - Centro Yas Island in Abu Dhabi and Centro Barsha in Dubai.

Centro Yas Island, Abu Dhabi adjoins with the Yas Island Rotana hotel, allowing guests to share both hotels' deluxe facilities. The three-star property comprises 259 rooms and is centrally located within the southern district of the spectacular Yas Island, just a few moments away from the Formula 1 Race Track and The Links Golf Course.

Centro Barsha, Dubai is conveniently located close to the business districts of Media City and Internet City. The three-star hotel features 246 rooms and is also in close proximity to the commercial areas of Sheikh Zayed road and the Dubai Financial Centre.

"We are extremely thrilled about the opening of the first two properties under our exciting new 'Centro Hotels by Rotana' brand, which will certainly meet the demands of a new generation of traveller, seeking finesse and functionality at reasonable rates," commented Selim El Zyr, President & CEO of Rotana.

Conceived by Rotana and designed by LWD, 'Centro Hotels by Rotana' signals the start of a bold new genre of hospitality. Centro is a contemporary concept that brings a young, fresh and dynamic environment to low cost business travel.

Business travel and accommodation for the budget conscious executive is an increasingly important market in the Middle East and the 'Centro Hotels by Rotana' concept is specifically designed to cater to this rapidly expanding market. Appealing to large corporate entities, small and medium business owners, and individual travellers, 'Centro Hotels by Rotana' is stylish, chic and affordable business hotel brand.

"We are redefining the conventional concept of economical comfort and offering affordable superior class accommodation and hospitality" comments El Zyr.

Centro Yas Island Abu Dhabi and Centro Barsha Dubai will feature amenities specifically geared to the needs of the travelling executive including well appointed executive centre, meeting rooms, gymnasium and a swimming pool. This is in addition to 'C.Taste' restaurant, 'C.Mondo' beverage and snack bar and 'C.Deli', an innovative deli take-away concept.

Rotana is working towards the opening of 25 'Centro Hotels by Rotana' properties across the Middle East by 2014, introducing a unique out-of-the-box solution for the mid-tier market.

For more information, go to rotana.com.