Gulf Air opens up new destinations through Malaysia Airlines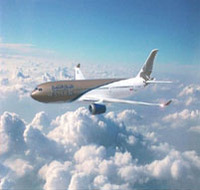 National carrier Gulf Air is expanding its codeshare agreement with Malaysia Airlines, opening up more destinations in Malaysia and Indonesia for Gulf Air passengers.
Under the agreement, Gulf Air will add its code on Malaysia Airlines operated flights to popular tourist destinations, Penang and Langkawi in Malaysia and, to Jakarta in Indonesia, benefiting a large number of passengers travelling between Bahrain and these two countries.
Gulf Air has, in the summer season, daily direct and nonstop flights to Malaysia's capital Kuala Lumpur. Through this codeshare expansion, Gulf Air is back to serving Indonesia once again where it used to fly until July 2007.
"As part of our expansion strategy, Gulf Air is actively looking at adding more destinations to its network through code share arrangements so that our customers have wider and more convenient travel options," said Gulf Air Chief Executive Officer, Mr. Björn Näf.
"The expansion of our codeshare agreement with Malaysian Airlines signals the beginning of the second phase of our successful relationship that began in 2006. In 2006, Malaysian Airlines added its code on the Gulf Air operated flights between Bahrain and Kuala Lumpur," he added.
Malaysia Airlines Managing Director/ Chief Executive Officer, Mr. Idris Jala said, "This is an exciting development in our existing partnership with Gulf Air. Through this codeshare expansion, Gulf Air customers can now conveniently travel to more destinations with Malaysia Airlines."
"We look forward to extending warm Malaysian Hospitality to our guests from the Middle East," he added.
Malaysia is a very popular and fast-growing family destinations for Bahrainis and Gulf travellers, with Penang and Langkawi rated amongst the top holiday destinations in South East Asia.
"Code-sharing is a very successful marketing tool enabling travellers to book and enjoy a seamless product, as a single airline supervises the passenger's entire journey," adds Gulf Air Director Alliances, Mr. Morten Loej.