Gulf Air starts flights to Copenhagen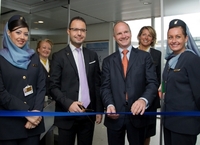 Gulf Air, the national carrier of the Kingdom of Bahrain, has commenced its services to Copenhagen, the capital of Denmark.

Addressing the media and travel trade at a press meet in Copenhagen, Gulf Air Chief Commercial Officer Mr. Karim Makhlouf said, "With the commencement of our services today between Bahrain and Copenhagen, we are opening the doors for huge commercial and tourism opportunities in the whole of Scandinavia and the Baltic region, and the Middle East, North Africa and beyond."

"The Kingdom of Bahrain, from where Gulf Air operates, sits at the gateway to the vast Arabian Gulf providing easy access to 36 million consumers in the Gulf and 400 million consumers in the MENA region, and Gulf Air provides excellent connectivity to these markets with its extensive network. Bahrain, on its own, is ranked as the freest economy in the MENA region besides boasting of a rich cultural heritage and history, tropical climate with some beautiful little islands and a multi-cultural, cosmopolitan lifestyle."

Mr. Makhlouf added further, "We know that Scandinavians are keen travellers to the Asian and the Indian sub-continent regions and Copenhagen is the travel hub for the Scandinavian and Baltic regions. Gulf Air offers seamless and convenient flight schedules for those travelling to key destinations in Asia and the Indian sub-continent such as Bangkok, Kuala Lumpur, Manila, New Delhi and Mumbai via Bahrain – the fastest hub in the region."

"On the other hand, Arabs are also keen travellers, who look for newer places to spend their summer holidays with family and friends; with our Copenhagen connection, we are opening the doors for them to enjoy Denmark and beyond – the whole of Scandinavia and the Baltic regions. We are working closely with 'Copenhagen Connected' and hope to promote Copenhagen in the Gulf region," Mr. Makhlouf concluded.

Copenhagen Airport CEO, Mr. Thomas Woldbye added, "We are delighted to receive Gulf Air into Copenhagen airport, joining our select of two Gulf airlines. We are also pleased to know that Gulf Air has added one more destination to its pioneering record by becoming the first airline to connect Bahrain with the Scandinavian and Baltic regions through Copenhagen.

"It is an exciting time here at Copenhagen airport, as we look forward to receiving people from Bahrain and beyond with our true Danish hospitality. At the same time we are all set to introduce the beauty of Bahrain, known as the 'Pearl of the Gulf', to our Danish people through Gulf Air."

As part of the launch promotion, Gulf Air has announced a special return fare from Copenhagen to Abu Dhabi, Bahrain, Dammam, Doha, Dubai, and Muscat starting from DKK 1500 only.

Gulf Air operates four weekly flights between Bahrain and Copenhagen.