Top 10 Aarhus festivals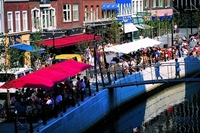 Vibrant and forward-thinking, Aarhus makes a great short-break anytime thanks to its winning combination of eye-catching architecture, fascinating museums and galleries, historical attractions, Viking heritage, excellent shopping, great Danish cuisine and close proximity to fine, sandy beaches and lush forests. Regarded as a cultural powerhouse and set to be the European Capital of Culture in 2017 the city is also well-known for hosting a plethora of festivals and this year will be celebrating the 50th anniversary of the Aarhus Festival.
Here is a list of ten of the best festivals taking place in Aarhus in 2015
1. Aarhus Festival 28 August - 06 September 2015
Ranging from music, architecture and performances to gastronomy, Aarhus Festival is a brilliant time to visit this already vibrant city and discover something exciting and possibly unexpected around every corner. With numerous highlights, some of the top picks from the programme include 'Open House' – the free official opening, headlined by local musical heroes Steffen Brandt and Thomas Helmig; performances by the Royal Danish Theatre; TRIO - a series of nine concerts featuring world class musicians and singers pulled together to perform in an unprecedented trio; a one day improvisational jazz festival 'UJazz'; the transformation of Tivoli Friheden's culture and theatre house into an exotic cabaret night club with all the lavishness of the Parisian 'Moulin Rouge'; and 'The Sofa Experience' a 60 metre long couch designed to encourage dialogue.
In addition to Aarhus Festival, the city also hosts a year round series of festivals and celebrations giving visitors plenty of other reasons to visit the soon to be European City of Culture in 2017:
2. Food Festival 4 September - 6 September 2015
For three days at the tail end of Aarhus Festival, the annual Food Festival offers a real gourmet treat for anyone interested in food. Showcasing the best of Nordic gastronomy and Danish ingredients, breeders, growers and well-known chefs work alongside each other to create an unimaginable feast. In addition to a comprehensive programme of demonstrations and workshops, offering everything from bread making to schnapps flavouring, look out for the new knowledge and educational food experiences at Tangkrogen where participants are required to taste and learn.
3. Sculpture by the Sea 5 June – 5 July, 2015
Denmark's biggest and most unique outdoor sculpture exhibition, 'Sculpture by the Sea, Aarhus – Denmark' comprises more than 60 sculptures in various shapes, sizes and materials from across the world. Showcasing international and local artists, the free exhibition stretches along Aarhus's scenic coastline from Tangkrogen, past the Queen's summer residence, to Ballehage Beach and into the forest around the extraordinary fairytale building of 'Varna'. In its 4th year, the festival was originally inspired by a visit to the annual 'Sculpture by the Sea, Bondi - Australia' by their Royal Highnesses Crown Prince Frederik and, Australian born, Crown Princess Mary, who thought it would be equally impressive in Aarhus.
4. Jazz Festival 11-18 July 2015
Established in 1988, the Aarhus International Jazz Festival is undoubtedly one of the city's festival highlights. Resonant with dulcet jazz sounds, Aarhus plays host to a wealth of different artists over an 8-day period, ranging from well-known international stars to young local jazz musicians. With everything from traditional Dixieland jazz to avant-garde electronic experimentation, music spills out from the many music venues onto street corners and squares all over town with numerous free performances.
5. Viking Moot 25-26 July 2015
On the last weekend in July, step back to Aarhus as it was 1200 years ago at the annual Moesgaard Viking Moot. Recreating the festive market days of old, costumed modern day Vikings gather to demonstrate their craftsmanship and exchange fine wares of iron, wood, leather, silver, wool, amber, glass and willow, whilst the more warfaring battle it out with crossed swords incited by a cheering crowd. With an impressive procession of Icelandic horses and enticing stalls selling traditional Viking food - all adding to the festivities, it offers an authentic and fun glimpse into Denmark's past.
6. NorthSide 12-14 June 2015
Started as a one day event in 2010, NorthSide is now one of the biggest music festivals in Denmark attracting 25,000 people over a three day period with a line-up of both international and Danish bands. Ideally situated within walking distance of the centre of Aarhus, there is no need to camp with an easy meander back into the city after the music stops at midnight. Aside from great music, the festival also has a strong focus on sustainability so offers fresh organic Danish food and is big on recycling with 'trash talkers' walking around helping the guests dispose of their rubbish properly.
7. SPOT 30 April - 3 May 2015
Creating a promotional platform for Danish and Nordic music, the overall aim of SPOT Festival is to support new bands and artists that are of a quality to succeed internationally. Each year more than 700 bands apply to participate in the festival with the music performed on 8 different stages in and around the Musikhuset Aarhus.
8. Christmas Festivities 28 November - 21 December 2014
Christmas celebrations begin on the last Friday of November with Santa and a colourful Christmas Parade adding additional cheer to the special late night shopping (shops close at 11.00pm). Up until Christmas, exquisite artisan gifts can also be picked up at the Aarhus Christmas Market along with a warming glass of Christmas grog and delicious traditional Danish doughnuts. For an old town atmosphere, head to Den Gamle By where over 75 different period houses, beautifully dressed for the festive season, provide the backdrop for over 30 different Christmas exhibitions. With staff suitably adorned in period costume, one can enjoy the truly Christmassy atmosphere of another time.
9. Stella Polaris July 2015 (date TBC)
Set amongst stunning natural surroundings with soothing electronic music, Stella Polaris is the perfect chill-out day for the discerning festival-goer. Taking place in different locations throughout Denmark at the end of July, the free festival exudes a sense of calm with people gathering around a picnic, sipping wine and relaxing in the sunshine as sound systems dotted throughout the landscape immerse them in sound. In keeping with the festival's character, Aarhus's Stella Polaris will take place this year at the Aarhus's Botanical Gardens, an oasis of green not far from the city centre.
10. Denmark's Ugliest Festival (Grimmeste Festival) 30 July to 1st of August 2015
Starting out in 2004 as a garden party with 500 invited guests, the Ugliest Festival still lives up to its original intimate atmosphere. Held on the outskirts of Aarhus and surrounded by parkland, it attracts a diverse audience of around 5000 day-trippers and campers. Specialising in Danish and international music away from the mainstream, festival-goers can expect a mix of cool up-coming bands, dark underground sounds and more experimental artists.
Getting there
Ryanair has direct flights from London Stansted to Aarhus and Billund from as little as £19.99 one-way.
Where to stay
Aarhus has an excellent selection of accommodation with two new recently opened hotels - the 240 room 4-star hotel Comwell Aarhus which opened in July and has been superbly decorated from head to toe by the popular Danish designer HAY and the centrally located Hotel Scandic Aarhus City which opened in 2012. Other well-located stylish options include the Radisson Blu Scandinavia Hotel Aarhus, Hotel Ritz Aarhus City and City Hotel Oasia Aarhus.
For more information, log on to visitdenmark.com.