Top 10 attractions on Denmark's Marguerite Route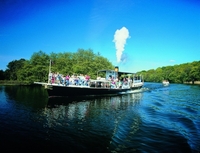 Covering 3,600 kilometres, Denmark's famous Marguerite Route is well-known by locals as one of the best ways in which to explore the country by car. Based on Queen Marguerite of Denmark's favourite drives, the route is characteristically marked by marguerite (daisy) road-signs and stretches from rustic islands of Falster, Lolland and Moen in South Zealand to the very top of North Jutland to Skagen and Grenen where the two seas, Kattegat and Skagerrak meet.
Taking in some of Denmark's most scenic countryside and prettiest towns and villages, the Marguerite Route provides a stunningly scenic gateway to a plethora of fascinating things to see and do:
1 Step back in time at Den Gamle By (The Old Town)
On the outskirts of Aarhus in East Jutland, Den Gamle By ('The Old Town') is an award-winning attraction where visitors can walk though time and experience life during three time periods – 1800s, 1920s and 1970s. Initially founded in 1909 as the world's first open-air museum of urban history and culture, it comprises a stunning collection of authentic Danish buildings that have been painstakingly restored and furnished to replicate each period. Exploring the half timbered houses, old-style stores, gardens and workshops, visitors can step back to the days of the famous Danish author, Hans Christian Andersen, or venture to the 1927 quarter, described as the 'Modern Town', to see the affects of industrialisation with electric lighting, petrol pumps and telephone wires appearing amongst the newer styled houses. Leaping forward 50 years, a stroll down the 1970's shopping street reveals 'Poul's Radio and TV Shop' with its retro electronic stock of TVs, radio sets, reel to reel tape recorders and records, a perfectly 'dated' pastry shop where you can grab a coffee and gynaecologist's clinic. Complemented by costumed staff living out the various roles, it offers a realistic engagement with another time.
2 Explore the heart of the Lakes – Silkeborg, Gudenaen river and Himmelbjerget 'The Sky Mountain'
Located in mid-eastern Jutland not far from Aarhus, the Silkeborg lake regionoffers breathtaking scenery with pristine woodland, tranquil lakes, long stretches of river and stunning highland. Straddling the banks of Denmark's longest river Gudenaen, Silkeborg city offers a wonderful introduction to this picturesque region. With a fascinating cultural past, thriving artistic community and vibrant restaurant scene, it's many highlights range from viewing of the world famous pre-historic Tollund Man at Silkeborg Museum to visiting the vast collection of work by the founder of the avant-garde COBRA movement, Angers Jorn, at Museum Jorn. High on the list of any visit must be an ascent of nearby Himmelbjerget – 'The Sky Mountain', one of Denmark's highest points. Standing 147 metres above sea level and overlooking Lake Julso, it provides a breathtaking panorama of the area from the 19th century Himmelbjerg Tower. Equally impressive views can also be had on a leisurely cruise aboard Hjejlen, the world's oldest coal burning paddle steamer or aboard the veteran train Veteran Railway Bryrup - Vrads. With excellent swimming, canoeing, kayaking and some of the best angling in northern Europe on the doorstep, it is an ideal place to take a break from the road.
3 Get a real taste for the Vikings at Lindholm Hoje Museum
Just outside Aalborg In North Jutland, ancient history comes alive at Lindholm Hoje. The site is home to one of Scandinavia's most impressive collections of Viking remains. Almost 700 graves dating back to at least 1000AD have been discovered here, each marked by a stone circle. The museum features an interactive exhibition on Viking life, including an opportunity to sail a longship or visit a traditional Viking house along with a comprehensive collection of Iron Age and Viking artefacts. More elements of Viking customs and culture can be gastronomically explored at Lindholm Hoje Museum's café where talented Viking chef and food storyteller Jesper Lynge, prepares traditional Viking inspired dishes such as wild boar with cranberry and spiced ham with chicken cooked in mead using sustainable year round ingredients. In addition to explaining the processes and stories behind the food, Jesper Lynge will also be hosting a series of historic cooking courses throughout the year.
4 Nature watch in Denmark's first National Park – Thy
On the western edge of North Jutland's Limfjord, and stretching from Agger Tange to Hanstholm, lies Denmark's biggest and oldest National Park -Thy. Covering over 200km² of pristine wilderness, it's dramatic coastline, dunes, sand heaths, dune plantations and lakes harbour an abundance of wildlife making it a great place to see roe and red deer, otter and extremely rare birds, such as the golden plover and sandpiper in their natural habitat. In the northernmost part of the national park lies Denmark's largest game reserve Hanstholm Vildtreservat. Viewed from the lookout towers in the nearby dune plantations of Tved and Vilsbol, it is an excellent spot for bird watching. Another avian paradise is the southernmost part of the park where the salt meadows on Agger Tange provide a breeding place for colonies of black-headed gulls and arctic terns and affords a resting place for migratory birds in the spring and autumn. The National Park is also important in terms of Danish history containing numerous grave mounds from the Bronze Age as well as remnants of the largest WWII bunker network in Northern Europe - bearing testament to Denmark's occupation. Criss-crossed with walking and cycling trails, the best of the park's scenery, 50 kilometres of idyllic isolated beaches and small historic small fishing villages such as North Vorupor and Stenbjerg Landing can also be explored by foot, cycle and even Icelandic horse.
5 Uncover the secrets of Royal Jelling and the Runic Stones
Only 15 minutes drive from Vejle in East Jutland, is one of Denmark's most important historical sites - Royal Jelling. Created in the 10th Century by the Viking kings 'Gorm the Old' and 'Harald Bluetooth', the site contains a huge, ship-shaped stone circle as well as some important runic stones, two 70 metre burial mounds and a church. Recognised as a UNESCO World Heritage Site in 1994, it is here that Harald Bluetooth embraced Christianity in 965AD, recording the moment on one of the runic stones and marking the conversion of the Scandinavian people from paganism to Christianity. In 2015, the National Museum of Denmark will open a new Royal Jelling Experience Centre; located close to the Jelling monuments, it will feature interactive exhibits where visitors can learn more about the history, significance and origins of King Gorm the Old and these unique Viking monuments.
6 Learn about the 1864 battle that changed the shape of Denmark at Dybboel Mill
Soon to be immortalised on British television screens in the new Danish television series '1864' - Denmark's so-far largest filming project, Dybboel Millmarks the site in South Jutland where the Danish army was defeated by the Prussian forces on 18 April 1864. Storming the Danish fortifications in a bloody siege, it resulted in the surrender of all of Slesvig and Holstein to the Germans. Given the Danish soldiers courage and will to continue fighting when they were completely outnumbered by Prussian troops with superior artillery, the Mill has become a symbol of bravery and is one of Denmark's most famous national monuments. 20 Miles north of the German Border, it has a fascinating history centre designed by Danish architects Michael Freddie and Ernst Lohse. Here visitors can get an in-depth understanding of this important period in Danish history through a series of short films, panoramas and reconstructed fortifications which include a blockhouse, powder magazines, roller bridges, along with 'soldier town' and its army huts.
7 Stroll down Northern Europe's most beautiful street in Mogeltonder and explore Tonder – Denmark's oldest market town
On the south western corner of South Jutland's Wadden Sea and directly affected by the 1864 war (having been unconditionally incorporated into Germany from 1864 to 1920 as part of the Danish surrender) lies the small idyllic village of Mogeltonder and Northern Europe's most beautiful street "Slotsgaden" (The Castle Street). Emanating from the impressive moated medieval Schackenborg Palace (Mogeltonderhus), the former castle of the bishops of Ribe and home today to Prince Joachim of the Danish Royal family, Slotsgaden is a prime example of 17th century architecture. Flanked with lime trees, the cobblestone street is lined with some of the most well preserved thatched and red tiled roofed listed buildings in Denmark. A relaxing walk around the village also uncovers the village's oldest building, the 12th century elaborately frescoed and richly decorated Mogeltonder Church, which was the venue for Prince Joachim's wedding; and the charming Schackenborg Castle Inn, a traditional Danish kro built in 1687, serving delicious locally sourced gourmet cuisine. Nearby, the larger town of Tonder, on the banks of the River Vida in the centre of the tranquil southern marshlands, is equally compelling. Denmark's oldest market town, it also has a notable collection of historic buildings. Famous for lace making, it was also home to the famous Danish architect and designer Hans J. Wegner who designed over 1500 chairs. Celebrating his 100th anniversary, the town's Sonderjyllands Kunstmuseum is honouring Wegner with a new exhibition this year that explores his childhood and training as a furniture maker at the local workshop of Herman Stahlberg. Housed in an old water tower, the art museum also contains the only permanent Wegner exhibition in Denmark - a collection he called 'my 37 best chairs'.
8 Cycle the Wadden Sea taking in the scenic and culinary delights of Denmark's south west coast
Stretching from Tonder marshland to Blavandshuk, the Wadden Sea - Denmark's third National Park – offers a pristine wilderness of wind-swept beaches, dunes, tidal flats and heathlands dotted with pretty seaside villages and interesting historic towns as well as spectacular encounters with wildlife. It has just received UNESCO World Heritage status and given the nature of its terrain, the region is relatively flat and ideal for taking a break from the car and getting on a bike. An excellent introduction to the region is the 28km circular Viking and Waddensea Cycle Route. It takes in Scandinavia's oldest Viking town Ribe with its wonderfully preserved medieval buildings and reconstructed 'living' Viking village Ribe VikingeCenter and the Wadden Sea Centre which offers an interesting insight into the area, its flora and fauna and frequent tidal storm surges. The centre also arranges guided tours such as forage excursions for fresh oysters and to see the 'Black Sun'. Along the way there are a couple of great gourmet stops – the 1879 former workhouseDen Gamle Avlsgaard and Restaurant Kammerslusen – which both serve freshly produced regional fare. Alternatively on the nearby island of Fano, pedal along the network of cycle paths or wide flat beaches can be perfectly punctuated with stops to try some of the island's famous fresh smoked hams, salmon and lamb, washed down with a Fano Bryghus beer. For history in the eating, try Fano's Nana's Stue, a small café housed in old diary or check intoSonderho Kro - built in 1722 and one of Denmark's oldest inns. Cycling north up the coast, detour to Henne Kirkby Kro for another gourmet highlight. Close to both Filso Lake and Blaabjerg Plantation, this historic inn has the country's largest kitchen garden and an award-winning restaurant headed by Michelin starred English chef Paul Cunningham.
9 Be immersed in royal renaissance grandeur at Frederiksborg Castle
Situated in Hillerod north of Copenhagen in North Zealand, Frederiksborg Castle is a beautiful example of Renaissance architecture surrounded by a stunning Italianate Baroque garden. The impressive red brick building was built in the early 17th century as a symbol of King Christian IV's power and today houses the Museum of National History, recording 500 years of Danish history, with a large collection of royal portraits. Within the collection are a number of contemporary pieces such as an Andy Warhol portrait of Queen Margrethe II, and a portrait of Mary, Crown Princess of Denmark, which has been woven from newspapers. Current exhibitions include '1814', an exhibition centred on the separation of Norway and Denmark 200 years ago (18.09.2014-01.04.2015).
10 Admire one of the best collections of Modern Art at the Louisiana Museum of Modern Art
Half way between Elsinore and Copenhagen in North Zealand, the Louisiana Museum of Modern Art is the equally compelling must see attraction of the region. Combining art and architecture with parkland and beautiful natural surroundings, its permanent collection is the largest in Scandinavia and includes major works by artists such as Picasso, Warhol, Bourgeois and Jorn. Every year, it hosts major international exhibitions of modern and contemporary art, photography and design. The building sits among a sculpture park with an incredible panoramic view of Oresund and the sea, creating a connection between art, nature and architecture.