Gulf Air enhances safety and quality management systems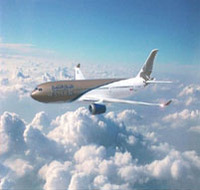 Gulf Air, the national airline of the kingdom of Bahrain, has embraced the world's leading software for aviation safety and quality management as part of its growth and expansion strategy.
Gulf Air has adopted Aviation Quality Database which is the first in the world to combine quality and assurance auditing with flight, cabin maintenance and ground safety occurrence reporting.
"Gulf Air has embarked on a major growth and expansion plan and as a growing airline we want to maintain best industry practices in all areas of our operations, including safety, which is our top priority," said Gulf Air Chief Executive Officer Mr. Björn Näf
"This initiative of having state-of-the-art AQD software bears testimony to our commitment to excellence in aviation safety and our efforts to become the carrier of choice," said Mr. Näf.
Safety management is the systematic management of the risks associated withflight operations, related ground operations and aircraft engineering or maintenance activities to achieve the highest level of safety performance.
Gulf Air's Vice President Safety Captain Paolo Fitze said the new system will set a new benchmark for aviation safety management in the region.
"Safety management remains at the forefront of making aviation, already the safest mode of travel, even safer. This new system will help us achieve our business goal to have the best safety performance and move beyond mere compliance with regulatory requirements," said Mr. Fitze.
AQD is a comprehensive and integrated set of tools to support Safety Management and Quality Assurance, covering all functions from accident/incident reporting, analysis and investigation through to auditing and corrective action tracking. It has been developed by aviation software specialists and is backed by 20 years of providing aviation system expertise to regulatory authorities, airlines and other aviation related organisations.