Gulf Air announces more flights to key destinations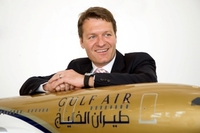 Gulf Air, the national carrier of the Kingdom of Bahrain has announced it will be adding additional flights and capacity to several of its key destinations this summer.
The move follows a prediction by the airline that the summer travel demand to many of its key destinations will be strong despite the current economic climate.
The airline has expanded its flights to Frankfurt from 9 to 11 per week while increasing its flights to Kuala Lumpur to a daily service. Asia's other popular tourist destinations Bangkok and Kathmandu will see double daily flights from Bahrain during the summer season.
Flights to Tehran will become a daily service, while flights to Manila have been increased to 12 per week. Destinations in the Levent region will see bigger planes offering more seats to meet the summer rush.
Gulf Air has also expanded its code share agreement with American Airlines so that it now covers more than 40 cities in the United States giving multiple and seamless connections to its customers.
The new Boeing 777 aircraft, which recently joined the airline as part of its re-fleeting and product-enhancement strategy, have been drafted to the airline's busiest routes - London, Bangkok, Manila and Kuala Lumpur. Increasing capacity and offering customers access to a state-of-the-art flying experience.
"While many people are talking about the global economic turmoil, we are still very focused on the needs of our customers. The summer schedule means we can offer a wider range of frequencies and connecting flights to our most popular destinations," says Gulf Air Chief Executive Officer Mr. Björn Näf.
"We are continually monitoring the changing market demand and aligning our network proactively to ensure we take advantage of all opportunities. I remain confident that with this strategy, the strength of the Gulf Air brand and our innovative products we are well positioned to emerge as the carrier of choice," concluded Mr. Näf.
Gulf Air's new summer schedule for 2009 will be published on Gulfair.com and in the reservation systems from today. Customers can book their tickets online to guarantee the best fares and instant confirmation or contact the Gulf Air Worldwide Contact Centre or any local travel agent.