Gulf Air punctuality reaches new benchmark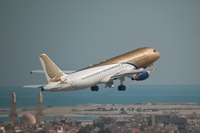 National carrier Gulf Air, in its continuous efforts to provide enhanced customer service, has reached a new milestone in one of its key service standards - punctuality.
Gulf Air has set a new record of 85% in its fleet punctuality during the first four months of 2009. The airline has shown a consistent performance in punctuality by achieving 86% in January, 84% in February, 86% in March and 84% in April 2009.
"Punctuality is one of the key factors that attract customers towards an airline and is an important service differentiator," says Gulf Air Chief Executive Officer Mr. Björn Näf.
"This new punctuality record is a significant improvement in our fleet performance as we push ourselves to newer benchmark in punctuality every time. Our sustained work towards achieving performance excellence, the revamped network with a customer-friendly schedule, faster check-in and checkout - all these have contributed to this achievement.
"We would like to assure our time-conscious business travellers that we are a performance-driven and a customer-focused airline and this record demonstrates our commitment to this," Mr. Näf concluded.
The airline currently offers over 940 flights per week through its efficient network providing seamless connectivity between Bahrain and the rest of the world, faster check-in and checkout and, supported by an efficient and simple online booking engine that comes with 'lowest fare' guarantee.