Online marketing success for Gulf Air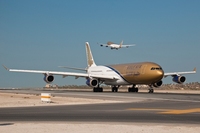 Gulf Air has recently showcased its leadership in internet marketing at the 'Internet World' in London, UK- Europe's longest running, best attended and biggest event for Digital Marketing and Online Business.
A case study was presented, illustrating how traffic to gulfair.com has significantly increased and sales have thrived thanks to innovative methods in the field of internet marketing, namely PPC (pay per click), advertising in search engines (like Google), search engine optimization and the pioneering work on social networks, i.e. Gulf Air fan page on Facebook
Gulf Air has achieved an increase in online sales of over 300% last year despite a negative trend across the industry. This year's sales are following the same, very steep trend, especially from Bahrain, Kuwait and the UAE.
This is also due to some of the airline's most successful initiatives, including the weekly World Wide Web Offers and the 'Best Fares Guaranteed' promise.
Gulf Air has recently complemented their web offer of flights and hotels with a new car hire service.
Mr Nicola Simionato, Gulf Air's Head of e-Commerce said, "We have invested extensively in its online sales capabilities, continually improving and expanding the service we offer our customers. Our efforts are certainly reaping dividends with online sales rocketing, resulting in substantial savings for the airline.
"Being showcased at IT World is a huge boost and reinforces our place as one of the leading companies in the Middle East in the field of internet marketing," he concluded.
Internet World attracts some 13,000 visitors and more than 300 exhibitors some of the leading of visionary individuals from marketing, IT, digital and e-Commerce.
Other speakers of note at the event included: Disney, HMV and the Hilton Group.