Arabian falcons adorn London Hackney cabs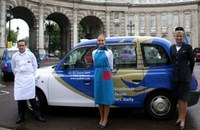 From now until 2011, Londoners and tourists to the capital will grow familiar with the sight of the iconic Golden or Saqer Falcon around the streets of London.
Gulf Air, the national carrier of the Kingdom of Bahrain, whose famous golden falcon crest graces the tail of its aircraft, has a total of 50 Hackney Carriages being rolled out over the next two weeks in full Gulf Air livery to promote the airline's three times daily, flagship service from London Heathrow to Bahrain and beyond.
London was Gulf Air's first international destination outside the Gulf region when it launched services to Heathrow Airport in April 1970 using a VC10 aircraft.
Gulf Air Chief Commercial Officer Mr Willy Boulter said, "London has a population of 7.5 million people with an additional 26 million tourists visiting the capital each year. The impact of 50 highly visible, Gulf Air branded taxis out on the streets of London will be significant."
He continued, "Over the past 59 years, Gulf Air has built a respected and recognized global brand. The UK is a key market for Gulf Air. This campaign will reinforce the airline's name and its strong network to the Middle East, Africa, South Asia and the Far East to residents of and visitors to the UK's most densely populated city."
The 50 licensed taxis will operate between London Heathrow and the City of London. On the back of the two year taxi campaign Gulf Air will launch a number of promotions and competitions, engaging with consumers and the travel trade both directly and across print, digital and social media. The taxis will also be used to support Gulf Air's other branding and sponsorship initiatives in the UK including its three year shirt sponsorship deal with Queen's Park Rangers Football Club.
One of the first passengers to travel in a new Gulf Air taxi was Queen's Park Rangers mascot, Spark, at the Club's Loftus Road ground in SW6. Spark, however, was not content with just sitting in the back and was soon sitting up front in the driver's seat.
He also enjoyed attention from three members of Gulf Air's cabin crew including the Gulf Air Sky Chef and Spark's personal favourite the Gulf Air Sky Nanny, who is specially trained for in-flight childcare services and helps to keep Gulf Air's younger passengers amused during the journey.