Gulf Air honours loyal employees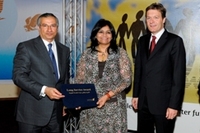 In an evening packed with emotion and elation, nearly 400 employees of the national carrier Gulf Air, who have served the company for many years, were honoured for their continued hard and dedicated work in a gala ceremony held at Gulf Air Club recently.
Employees, who have put in continuous service ranging from 10 to 35 years, received a certificate, a memento and a cash award from the Chairman of the Gulf Air Board of Directors Mr. Talal Al Zain in the presence of Gulf Air Chief Executive Officer Mr. Björn Näf, Chief People Officer Mr. Ahmed Al Banna and other members of the management team.
"I am delighted to be able to pay tribute to a special group of employees, who have served our airline for many years and contributed to our many great accomplishments," said Mr. Al Zain congratulating the employees.
"This occasion is also an important reminder of the dedication and commitment required to achieve progress. It serves as an inspiration to all of us, who strive towards making Gulf Air the network 'carrier of choice'.
"On behalf of the Gulf Air Board members and the extended Gulf Air family, I would like to thank each of our award winners for their contributions over the years and I look forward to their continued dedication and commitment in the years to come," concluded Mr. Al Zain.
"This Long Service Award Ceremony provides a golden opportunity to publicly acknowledge and reward the hard work and loyalty of our distinguished staff members and say a well-deserved thank you," added Mr. Näf.
"This year, despite an adverse economic climate and volatile market conditions, we are able to show some positive results. We haveset a new record of 85% average in our fleet punctuality for the first four months of this year and this great achievement is a testament to what can be achieved through the dedication, hard work and team spirit of our employees.
"With so many years of hard work and many more to go, they have been an integral part of the proud history of this company and we would like to thank them for being with the airline."
Added Mr. Al Banna, "We, at Gulf Air, strongly believe that people are the greatest resource for the success of our organisation and they must be recognized, honoured and rewarded for their accomplishments.
"With this in view we started this Long Service Award programme in April last year and this is the third occasion, where we are honouring our employees who have spent a major part of their life dedicated to the success of Gulf Air."
"We firmly believe that the employees who have received the awards will be a great inspiration for the younger generation to follow their footsteps to see Gulf Air succeed," concluded Mr. Al Banna.