Gulf Air to participate in Paris Air Show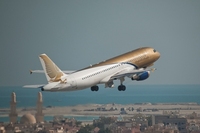 Bahrain's National carrier Gulf Air will participate in the International Paris Air Show - Le Bourget, which will be held in the French capital on 15 - 21 June at Le Bourget Exhibition Centre.
Gulf Air will be represented by a delegation led by the company's Chairman Mr. Talal Al Zain. The airline is expected to make a number of major announcements regarding its re-branding and re-fleeting during the week long event.
"We are excited to take part in what is one of the most anticipated events in the aviation calendar. The show provides an unique opportunity to interact and exchange information with other aviation companies. Taking part in this year's air show has an added advantage, since Le Bourget is celebrating its hundredth anniversary," commented Gulf Air's CEO Björn Näf.
More than 250,000 people are expected to attend this year's air show. Held every other year the show is a venue where exhibitors and manufactures of the aerospace business gather to display their products and exchange expertise.