Gulf Air chooses Honeywell for new Airbus fleet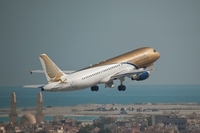 National carrier Gulf Air has announced that it has chosen Honeywell Aerospace to provide fifteen 131-9A Auxiliary Power Units (APUs) and a maintenance programme to its new Airbus A320 aircraft, whose deliveries are scheduled from 2009 through 2012. The contract, valued at more than $8 million, also covers maintenance through 2022.
"Gulf Air has chosen the APUs after carefully considering various factors such as reduced emissions and fuel efficiency," said Gulf Air Chief Executive Officer Mr. Björn Näf.
"In addition to providing reduced operating costs, Honeywell provides a highly reliable APU with great performance. The maintenance programme provides us with Honeywell's expertise in APUs while allowing us to focus on our customers."
An APU is a small gas-powered turbine engine that provides bleed air for main engine starting and electrical power for cockpit and galley systems. The 131-9A APU has been in service since 1998, though recent engineering has yielded fuel burn and reliability improvements. The 131-9A is fitted in more than 1,400 aircraft and serves more than 100 customers.
"The 131-9A APU reduces emissions and fuel consumption over the life of the APU," said Mike Madsen, Vice President, Airlines, Honeywell Aerospace.
"The total cost of ownership is further reduced by high reliability and low maintenance costs; our on-aircraft maintenance costs are 36% less than other APUs because of the simple design."
Honeywell's after-market service programmes provide a comprehensive range of cost-effective maintenance and asset availability solutions to support airline operations throughout the life span of the aircraft. Honeywell's wide ranging support services can also be customized to create cost-effective, packaged solutions that allow airlines to better manage and predict maintenance spending, asset requirements and repair needs, while lowering operating expenses with a reduced total cost of ownership.