Gulf Air orders Rolls-Royce engines for new A330s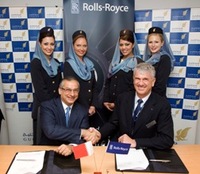 Gulf Air signed a Memorandum of Understanding today with Rolls-Royce, the global power systems company. The final contract is expected to be signed at a ceremony during the Bahrain International Airshow.
The Trent 700EP (Enhanced Performance) engines worth US$1.5bn at list prices will power Gulf Air's new A330s. The contract will also include a TotalCare long-term service agreement.
The new engines will power 20 Airbus A330 aircraft, with deliveries beginning in 2012. The Trent 700EP (enhanced performance) has the best performance, lowest emissions and lowest fuel burn on the A330. In addition, Gulf Air also renewed TotalCare long-term service agreements on Trent 700s that power ten A330s already in service.
Gulf Air Chairman Talal Al Zain signed the contract with Rolls-Royce Chief Executive Sir John Rose at Paris Air Show - Le Bourget, and Gulf Air CEO Björn Näf, and Phil Harris, Rolls-Royce Senior Vice President Airlines were also present at the signing.
Gulf Air Deputy CEO, Ismail Karimi commented, "As Gulf Air progresses with its ambitious re-fleeting and product enhancement strategy, we need an engine to power our future A330s. After exploring an number of various options, we have selected the Trent 700 EP as the one best suited to meet our future needs. The Rolls-Royce engine offers the best deal for Gulf Air technically, operationally, commercially and environmentally."
He continued, "Our new aircraft will offer improved customer service in terms of comfort and reliability and will also continue our drive to keep operating costs to a minimum. We have had excellent experience with our existing Trent 700s, both in terms of operational performance and the comprehensive TotalCare service package, which were important factors in our decision making on the new purchases and service renewal."
Phil Harris, Rolls-Royce Senior Vice President Airlines - North Asia and Middle East, said: "I am delighted that Gulf Air has selected our Trent 700EP technology and TotalCare package to power its new aircraft. Rolls-Royce technology will enable the customer to receive excellent technical performance and world-class service support."
Rolls-Royce has secured more than 70 per cent of the A330 market over the last three years and eight of the nine Middle East A330 operators have selected Trent 700 engines to power their fleets.
In the widebody aircraft market, Rolls-Royce has established a leading position with the Trent engine family. More than 1,500 Trents have been delivered and a about another 2,500 engines are on order. The Trent family have more than 30 million hours in service with more than 2,200 operators around the world.