Gulf Air marks inaugural Alexandria flight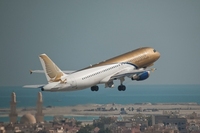 Gulf Air, the national carrier of the Kingdom of Bahrain, held an event at the Four Seasons Hotel to mark its inaugural flight to Alexandria.
Gulf Air Commercial Area Manager for Alexandria, Mr. Mohammed Alam, greeted around 70 guests from corporate business firms, the Civil Aviation Department, travel agents, airport authorities, general sales agents, as well as the local media and a press delegation from Bahrain.
"We are delighted that Gulf Air has introduced another exciting destination such as Alexandria to fly to for the summer," said Mr. Alam
"Our top priority is always our customers, and based on their feedback this new route was launched to offer passengers the opportunity to fly directly to the popular summer destination of Alexandria. By adding additional destinations with flexible timings, Gulf Air is reinforcing its commitment to its passengers in offering more choices to those customers seeking a quality vacation. Alexandria known for its rich history, is an ideal city for a family vacation, a business trip, or even a sightseeing archaeological tour," concluded Mr. Alam
Gulf Air flies to Alexandria 5 days a week on Mondays, Tuesdays, Thursdays, Fridays & Saturdays. Customers may book their tickets on gulfair.com and get the lowest fares possible, or contact any travel agency or your local Gulf Air sales office. Flights to Alexandria are available from 22 June to 15 September 2009.