Gulf Air programme wins at 2009 Travel Awards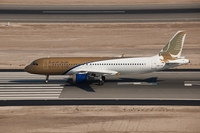 Gulf Air, the national carrier of the Kingdom of Bahrain, has won the title of 'Middle East's Leading Airline Reward Programme' at the World Travel Awards 2009.
Ruth Birkin, Director of Customer Services, Gulf Air said: "The unique advantages and benefits Gulf Air's Frequent flyer programme (FFP) offers its customers have received a great deal of high praise and industry recognition over the years. This most recent accolade has been awarded by one of the most prestigious and sought after awards programmes in the global travel and tourism industry and was voted for by executives working within the industry, most notably travel agents, who deal with our customers on daily basis and know what they are looking for from an FFP.
"Our Frequent flyer programme is one of the most generous in the market. What's more we have made it even easier for our members to take advantage of the programme with the addition of several new facilities to our online FFP site which allows our members to log onto their personal account and check their loyalty points and redeem their miles anytime, anywhere."
She continued: "As Bahrain's national carrier, we are also continually indentifying new local partners so that the Bahrain community can receive extra benefits as part of their membership and loyalty. Miles can now be exchanged for dining vouchers at the Gulf Hotel, Bahrain, as well as spa treatments or villa accommodation at the Banyan Tree, Al Areen."
Passengers travelling in Gulf Air's premium cabins are generously rewarded with Business Class passengers earning double miles and First Class passengers rewarded with triple miles. On top of this, additional bonuses for Silver and Gold members are earned at 25% and 50% and once you have achieved Silver and Gold status it's easy to maintain as the required number of loyalty points is lowered for your second and subsequent years of membership.
Gulf Air's most loyal frequent flyer Gold members who clock up a total of 10,000 loyalty points within a five year period, are awarded with Gold membership for life. Miles awarded are dependent on the booking class and the number of miles flown, and are listed alongside the loyalty points on the member's account.
For more information on Gulf Air's Frequent Flyer Programme visit gulfair.com.