Gulf Air announces plans to fly to Iraq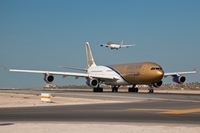 Bahrain's national carrier Gulf Air, has announced that following the completion of successful Government discussions earlier this month, it intends to resume services to Iraq as soon as possible.
The decision to fly to Iraq follows the agreement made between the Governments of Bahrain and Iraq on 9th July, allowing the national carriers of the two countries to operate direct services between Bahrain and four cities in Iraq. A total of seven weekly flights have been authorised to operate from Bahrain to Baghdad and 12 weekly flights to Iraq's holy city of Najaf.
Talal Al Zain, Executive Chairman Gulf Air said, "Gulf Air has one of the strongest, most connected networks across the Gulf and Middle East region and so the resumption of services to Iraq will further strengthen our reach.
"The commencement of our services to Iraq is still subject to Gulf Air safety audits which are currently taking place. However, it is our intention to operate services to Baghdad from September this year, and daily service to Najaf once the airport infrastructure there is in place. Both operations will use A320 narrow body aircraft at the initial stage."
According to Iraqi officials approximately 25,000 visit visas were issued to Bahrainis last year.
Mr. Al Zain continued, "There is clearly a demand for a direct service from Bahrain to Iraq and, in line with our commitment as the Kingdom's national carrier to serve the travel needs of the people of Bahrain, we are excited about the prospect of adding Iraq to the list of countries we serve."
Gulf Air first started flying to Iraq's capital Baghdad over thirty years ago in 1976.