Gulf Air website proves a hit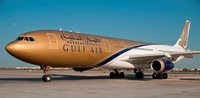 National carrier Gulf Air's website gulfair.com has proved to be a super hit in 2009 with more and more customers taking advantage of the airline's "Our Best Fare Guaranteed" promise.
Gulf Air's average web sales for the period January to July 2009 witnessed a record-breaking 160% increase over the same period last year. What's more, there has been an upward trend in bookings over the year with a 140% increase in online sales in July over the month of January.
"The growing popularity and success of gulfair.com shows that our strategy to attract more customers to book online is paying off," says Gulf Air Director Distribution & e-Commerce Mr. Lars Denlew.
"There are several factors which have proven to be major drivers for this enormous success. A big draw is "Our Best Fare Guaranteed" promise, which assures our customers that the fares on gulfair.com cannot be beaten by any other website. And it's not just flights they can book online. We have also introduced a wide choice of hotels and car hire across the airline's network, which customers can book and get instant confirmation, making gulfair.com a one-stop travel shop for all our customers' business and leisure travel needs."
He continued: "We have also made gulfair.com simpler to use. The state-of-the-art online booking tool features are straightforward and convenient to navigate making it quick and easy for our customers to book their flights 24/7. Importantly, our customers also have peace of mind when booking online at gulfair.com thanks to our safe and secure payment gateway with 3-D Secure VISA/MasterCard compliance."
Gulf Air launched its new internet booking engine in January 2008. Ever since the website has become an instant hit among the travelling public. In addition to buying air tickets online, customers can review their booking, check their flight status and get comprehensive information about the destinations Gulf Air flies to.