Gulf Air expands network into Iraq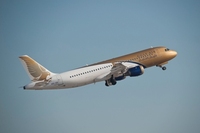 Gulf Air, the national carrier of the Kingdom of Bahrain has announced that it will be expanding its network into Iraq.
The airline will commence flights four times per week to Najaf from 26 September, which will become a daily service from 26 October. Services to Erbil will begin on 26 October with three flights per week, which will also become a daily service in due course.
Gulf Air's service to Najaf, in the south of Iraq, will operate on Mondays, Wednesdays, Thursdays and Saturdays using an A320 aircraft. Service to Erbil, in Northern Iraq, will operate on Mondays, Wednesdays and Fridays, also using an A320 aircraft.
The announcement follows the successful launch of flights to the Iraqi capital of Baghdad last week and builds upon the airline's experience and knowledge of operating there over many years. Over the next two months Gulf Air aims to become the market leader operating regular services to three key cities within the country.
Gulf Air Chief Executive Officer Mr. Samer Majali said: "On the back of the successful launch of our services to Baghdad I am delighted that Najaf and Erbil will be following close behind. This is a great achievement for Gulf Air as we look to the future and start to target niche routes."
He continued: "Like Baghdad, we expect significant demand to these Iraqi cities. The type of traffic travelling on these two routes will be quite different. The holy city of Najaf is a site of great religious significance to Muslims and a great centre of pilgrimage.
"As Iraq's third largest city as well as the capital of the Kurdistan Autonomous Region and the Kurdistan Regional Government (KRG), Erbil is an important commercial centre in Iraq. The Kurdistan Region has significant proven petroleum and gas reserves and over 35 companies from 20 countries have signed exploration and development contracts with the KRG. Just like Bahrain, the KRG is nurturing a business friendly environment and has started attracting businesses to the region, who are looking at its long-term potential. The KRG is also seeking to attract tourists investing heavily in its infrastructure to scale-up the capacity of its tourism sector," Mr. Majali concluded.
Gulf Air has planned its schedule to Najaf and Erbil to compliment its extensive Middle East network as well as to provide excellent connections for key destinations on its route network in Asia and Europe.