Inaugural Gulf Air flight arrives in Baghdad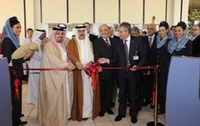 National carrier Gulf Air flew its inaugural flight to Baghdad on the 1st of this month. The flight marked the start of a new five-time weekly service the carrier is operating to the Iraqi capital.
Gulf Air Chief Executive Officer Mr. Samer Majali led a delegation of senior Gulf Air executives, board members as well as government, business, diplomatic and media representatives on the maiden voyage, including Iraq's Ambassador to Bahrain, His Excellency Mr. Ghassan Mohsen Hussain and Bahrain's Ambassador to Iraq, His Excellency Mr Salah Al Malki.
On arriving at Baghdad International Airport, Gulf Air CEO Samer Majali addressed guests and media saying: "This is a great milestone for a new, forward-looking Gulf Air. We were the first and only full-service GCC carrier to operate into Baghdad back in 1976 and today we reaffirm that leadership position. I am pleased to announce to you here today in Iraq of our plans to extend our network into the country even further. My plan is that we will soon operate to a total of five destinations in Iraq: Baghdad, Najaf, Erbil, Basra and Solamnia. Our services to Najaf and Erbil will commence as soon as 15 September.
"Our decision to resume flights into Iraq comes as the country continues to make great progress in rebuilding, following years of unrest. We are proud to be serving Iraq once again offering a direct service from our home hub in Bahrain and excellent connections from Europe.
"Iraq has enormous commercial potential for Gulf Air and building on our experience and knowledge of operating there over many years, our aim is to become the market leader operating regular services to five key cities within the country."
Iraq' Ambassador to Bahrain His Excellency Mr. Ghassan Mohsen Hussain said: "We are delighted that Gulf Air has taken advantage of the recently agreed Air Service Agreement between our two countries so quickly and that the trusted 'golden falcon' will be flying into Baghdad once again. As Iraq transforms and develops, a direct link into the GCC and onwards to Europe will be invaluable both for attracting direct investment into the country and for businesses and services in Iraq to prosper. In years to come, we also hope to see our tourism industry flourish as people discover our rich culture and ancient wonders."
Bahrain's Ambassador to Iraq His Excellency Mr. Salah Al Malki said: "I am delighted that, thanks to this pioneering initiative of Gulf Air, my dream of regular scheduled flights from Bahrain to Iraq has been realised.
"I want to thank Shaikh Ali Bin Khalifa Al Khalifa, Deputy Prime Minister and Shaikh Khalid Bin Ahmed Bin Mohamed Al Khalifa, Minister of Foreign Affairs, for their firm and longstanding support for this initiative, based on their recognition that these direct flights will be important in building people-to-people ties between the two countries, and in facilitating travel to Iraq by Bahrainis performing pilgrimage, visiting relatives, or simply for tourism."
As well as the special Gulf Air delegation, over 90 Gulf Air customers were also onboard the inaugural flight taking immediate advantage of the new direct services from Bahrain.
Forward bookings for the service are looking very favourable and Gulf Air expects the service to be one of its most profitable routes with extensive corporate traffic anticipated from finance and investment companies, the oil and minerals industry, security and construction companies and a host of others. VFR and pilgrimage traffic is also expected to grow as Iraq becomes more accessible.