Thomsonfly launches low-fare flights to Tel Aviv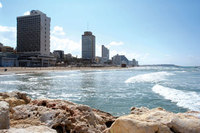 Low-fares airline Thomsonfly is launching new services to Tel Aviv this winter, with departures starting on 1 November 2007. Thomsonfly is the first low-fares airline to launch flights to Israel. Flights will operate three times per week on Tuesdays, Thursdays and Sundays out of both London Luton and Manchester airports.
Kosher meals will also be served on board, which must be pre-booked. The meal option will be available to book at the same time as the flight booking.
Before now, low cost airlines were associated with destinations that were within easy reach of the British traveller. This new budget flight path between British airports and Tel Aviv is set to change that however as UK tourists push the budget boundaries further and further a field. Are consumers now eager to explore the arguably less stable destinations of the Middle East?
Thompsonfly has uncovered that there is currently a huge demand for direct flights to the city of Tel Aviv, which is the reason behind their new launch. Known as the 24-hour party city, it also has both Jerusalem and The Dead Sea in close proximity, offering an unparalleled opportunity to experience Israeli culture.