Iceland Express cuts your journey time to Iceland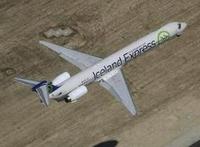 To accentuate the message that Iceland is less than three hours flying time from Stansted, until September, Iceland Express has made special arrangements for every one of their passengers to have complimentary Fast Track passes at Stansted, enabling them to go straight through security after check-in.
Matthías Imsland, Iceland Express CEO, said: " Iceland Express is all about our passengers having an enjoyable and efficient journey. Its easy to get to Stansted and now we made it even easier to get from check-in to our aircraft. We'd had feedback from regular travellers to Iceland that this service, which is normally only available to business-class passengers, will persuade them to make Stansted their first choice of London airport. But then we thought 'why not make it available to everyone?'
"Holiday makers with young children will particularly appreciate being able to go straight through security and this will give them a great start to their holiday. Iceland is a unique family destination and there are loads of activities to do when you get here. It is only a short flight from Stansted and then you arrive somewhere totally different"
Iceland Express operates daily between London Stansted and Iceland leaving at 12:30 and arriving in Iceland at 14:30 local time. The service uses an MD 90 aircraft and is available through the easy to use web site at Icelandexpress.com.
With its consistently good on-time performance and on-board service, Iceland Express has established itself firmly in both leisure and business travel markets.
The airline now carries more than 300,000 passengers a year, which is more than the entire population of Iceland.