Iceland Express celebrates fifth anniversary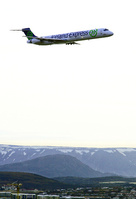 Budget airline Iceland Express celebrated its fifth anniversary on February 27. On that day in 2003 the inaugural flight from Keflavík to Copenhagen and London was airborne, starting an active competition between international carriers in Iceland that travellers welcomed with open arms. The number of passengers has increased every year, as well as destinations.
Since the first flight five years ago, Iceland Express' European destinations have increased from two to fourteen and in addition to operating from Keflavik Airport the airline now operates flights from Akureyri and Egilsstaðir to Copenhagen during the summer months. Iceland Express' goal from the beginning has been to enable Icelanders to travel more easily at a lower price.
Last few summers the people in Akureyri and Egilsstaðir have been able to fly directly abroad, saving both time and money and increasing the number of tourists in Akureyri and Egilsstaðir at the same time.
Iceland Express' destinations this summer will be Copenhagen, London, Alicante, Basel, Berlin, Billund, Eindhoven, Frankfurt Hahn, Friedrichshafen, Gothenborg, Paris, Stockholm, Barcelona and Warsaw. The Warsaw route marks the first time a direct route between Poland and Iceland is operated. Barcelona is also a new summer destination, the airline started servicing the route last fall and will continue this summer.
The founding of Iceland Express marked the beginning of an active competition between international carriers in Iceland in recent years. The airline has since day one offered tickets at considerably lower prices than were previously available. Travellers can purchase tickets at a low price regardless of how long the trip will be but previously had to stay abroad over Sunday night in order to get a lower price. Iceland Express has also offered one-way tickets at a low price.
"Iceland Express has grown substantially in the last five years and we will continue to do so. We have enjoyed a great reception from Icelanders and tourists from the beginning, which shows that it is important for Icelanders and the Icelandic travel industry to have an active competition on international routes," says Matthías Imsland, CEO Iceland Express.
Iceland Express is owned by Northern Travel Holding. Fons Investments is the biggest shareholder in Northern Travel Holding. Other large shareholders are Sterling Airlines, Hekla Travel, Ticket and Astraeus.
The airline employs around 150 people with offices in Reykjavik, Keflavik, Copenhagen, London and Luxembourg. Matthías Imsland is the CEO of Iceland Express.
Iceland Express celebrated its fifth birthday at Stansted Airport with a special performance in the main terminal building by characters from the popular Icelandic originating children's show "LazyTown Live!"
To mark the fifth birthday, Iceland Express also launched a special web seat sale with 5000 seats being offered for travel between 01st March and 15th May at £53 one way including taxes. Sale ends 17:00 on February 28th.