Iceland Express announce new Gatwick service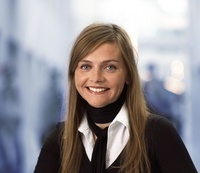 Iceland Express have announced that they will commence flying five times per week between London Gatwick and Reykjavik from 16th September, 2008. This is in addition to a winter flying programme which includes a daily service between London Stansted and Reykjavik.
The new Gatwick flights will operate on Tuesday, Wednesday, Thursday, Friday and Sunday departing Gatwick at 2100 arriving Keflavik International Airport at 2300. The return flights leave Keflavik at 1605 arriving Gatwick at 2000. (All times local)
Marketing Manager Birna Guðmundsdóttir (photo attached) said: " We have just celebrated five years of flying into Stansted where we have created a very loyal and local passenger base with our unique blend of good fares and consistent service. We have wanted to expand into Gatwick for some time and the decision by British Airways to suspend their services to Reykjavik earlier this year means that the time is now right to do so.
"As with our Stansted service, we are looking for a mix of both business and leisure passengers who book directly through our award winning web site (IcelandExpress.com) plus those who prefer to use either a travel agent or a Tour Operator.
Vikki Joyce, Head of Sales at Iceland Express UK Representative, Flight Directors said "We are already working closely with many of the specialist Tour Operators to Iceland and hope that our new Gatwick service will encourage others to feature this incredible destination in their future programmes. We have special Tour Operator fares available, plus some un-matchable group rates and as it's a brand new service our availability for the whole of next winter is currently good."
Prices on the new Gatwick service start from £69.00 one way including taxes.
Bookings are now available through Icelandexpress.com.