Iceland Express offers a healthier option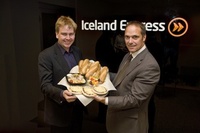 Airline Iceland Express will from June 1st provide its passengers more choice of food onboard with healthier meals added to the menu. The selection will consist of pasta and salad meals, fruit salad, pizzas and sandwiches.
Iceland Express will provide the meals onboard in co-operation with Avaxtabillinn, an Icelandic food production company. Avaxtabillinn has specialized in producing fresh, healthy meals for the Icelandic market, with emphasis on fruits and vegetables. Therefore the company was the perfect choice for Iceland Express when the airline decided to add more choice to its menu onboard.
The meals produced for Iceland Express will not include peanuts, kiwis or any additives.
"Passengers have increasingly been asking for more fresh and healthy food onboard and therefore we decided to change our menu in co-operation with Avaxtabillinn. The company is known for producing high quality product that we are proud to be able to offer our passengers," said Matthias Imsland, managing director of Iceland Express.
Meals onboard Iceland Express' airlines will continue to be offered at reasonable prices. This way the airline can offer tickets at low rates while still providing high quality service for those who want such service onboard
For more information, visit Icelandexpress.com.