Airplay from Iceland Express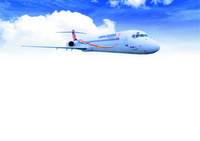 Finished your book, ran out of sweets and bored of your mate's chit-chat? Well, fear not because Iceland Express has broken new ground by becoming the first budget airline to launch an in-flight entertainment system that will keep both adults and children amused for the entire journey.
The Bluebox lite unit or "Airplay" allows customers to watch movies, TV shows, listen to music and play computer games while in the air. Plugging in USB headsets, travellers aboard the London Stansted to Reykjavik flight can watch their favourite show or sing along to their favourite band using the handheld device.
Matthias Imsland, Iceland Express CEO, said: "We are delighted to have introduced the Bluebox IFE unit on our expanding route network and we are confident that the system will prove very popular with our customers."
Airplay will be available on all Iceland Express routes from Reykjavik including Alicante, Barcelona, Lanzarote, Copenhagen, Berlin and London Stansted.
David Brown, Bluebox Avionics Joint Managing Director, said: "We are pleased to announce Iceland Express as our latest Bluebox customer. The system has proved extremely popular so far and I am in no doubt that it will be a hit with Iceland Express passengers."
The Bluebox lite unit has a six hour battery and the rental costs ISK1000 (approx. £6.00) per unit for the duration of the flight.
Iceland Express is Iceland's low-fare airline connecting the Icelandic capital of Reykjavík with 14 airports in Europe including Copenhagen, London, Alicante, Basel, Berlin, Billund, Eindhoven, Frankfurt Hahn, Friedrichshafen, Gothenborg, Paris, Stockholm, Barcelona and Warsaw. The airline, which launched in 2003, offers a daily service between London Stansted and Reykjavik. A new service between London Gatwick and Reykjavik will be launched from spring 2009.
Iceland Express has no length-of-stay restrictions, no Sunday rule, easy online booking and offers a 50% discount for children under 12 years of age. The airline recently won Best Website Award at the World Low Cost Airline Awards.
For reservations go to Icelandexpress.com.