Trio of Stralis 4x2 tractors for long-distance operator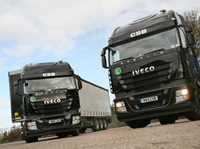 Kent-based CS Bull Ltd is taking delivery of three new Iveco Stralis Active Space Super³ tractor units, each finished in a jet black livery and built for long-distance operations across mainland Europe.
Supplied by Haynes Trucks, the Stralis AS440S45T/P 4x2 tractor units are each plated at 40 tonnes and are left-hand drive coupled with long-range 1,160 litre diesel tanks and 100 litre AdBlue tanks. The specification also sees the regular Eberspacher night heater replaced with a water-based heater as original equipment, providing the same excellent interior heating whilst also warming the engine to ensure prompt starting even in the harsh winter climate commonly experienced in Scandinavia and Eastern Europe.
Clive Bull, Managing Director of CS Bull says: "We've been running Iveco's in our fleet since the mid-1980's and the trucks have just got better and better. There is very little to distinguish between the modern heavy truck marques and in the end it comes down to personal preference. In the Stralis we have found a vehicle which is popular with our drivers, performs competitively on fuel and has excellent dealer back-up both at home and abroad.
"I had a recent experience where one of our existing Stralis' was in Damascus in Syria and needed a new starter motor. I called Assistance Non-Stop on the Friday evening and the part was fitted that weekend. The driver was back on the road without any delay to his schedule," he adds.
The three new Stralis tractor units are being supplied on a three year Iveco Elements repair and maintenance contract and will operate with a mix of trailers, including tautliners, box vans and container chassis. The trailers all feature full air-suspension to ensure goods arrive in perfect condition regardless of the rugged terrain encountered – a useful feature with the CS Bull fleet operating to destinations which include Scandinavia, the Baltic States, Eastern Europe, Central Asia, Northern Africa and the Middle East.
The company's expertise in operating to far-flung locations has seen it build a strong customer base in the conference and entertainment sector, supporting events ranging from film, television and theatre productions through to international conferences, roadshows and music tours / concerts.
"It's very different to regular haulage work where the driver may spend a few nights in the cab each week," explains Bull. "Our drivers routinely cross the Channel and then spend up to two months away at a time, so vehicle reliability and driver comfort is crucial. They are full of praise for the roomy AS Super³ cab, and in terms of on-board storage space they claim it's unrivalled."
The interior specification of the Stralis cab includes air-conditioning, slide-out fridge, electrically operated roof-vent and windscreen blind, door roller blinds and smart black curtains to enclose the cab area – all as standard. CS Bull also specifies an optional air-suspended passenger seat which offers the same comfort as the driver's seat, with the added benefit of a swivel function, to ensure its drivers enjoy a relaxing living space offering maximum comfort.
Power for the three new vehicles comes from Iveco's Euro 5 10.3 litre Cursor 10 engine which is capable of producing up to 450 hp between 1,550 and 2,100 rev/min and up to 2,100 Nm of torque between 1,050 and 1,550 rev/min. Driven through a 12-speed EuroTronic gearbox, it offers an impressive combination of performance, economy and driveability.