Celebrating 60 years of sailing excitement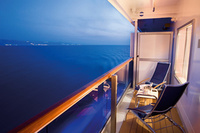 On March 31, 1948 the Anna C, Costa's first passenger ship set sail from Genoa bound for South America. The maiden voyage marked the beginning of Costa Cruises' sparkling story. 60 years on, the cruise giant is celebrating its diamond anniversary by offering customers a special discount of up to 20% on a selection of cruises throughout 2008.

Itineraries being offered with the special anniversary discount include an 11-night cruise around the Baltic Sea on Costa Marina, departing 28 July 2008; a seven-night sailing to Sweden, Finland, Russia and Estonia on Costa Victoria, departing 3 August 2008; and a nine-day cruise to Italy, Malta and Tunisia onboard Costa Marina, departing 24 September 2008.

Guests booking cabins on these cruises will be treated to a special Captain's cocktail reception with fascinating archive footage covering the highlights of the Costa Cruises story. There is also a gala dinner featuring a traditional dish from the past and commemorative cake. Each guest will also be presented with a "60th anniversary cruise" certificate to take home with them.

For more information, visit Costacruises.co.uk.