Take inspiration from Che and discover South America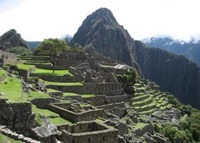 With the DVD launch of Che - The Complete Story on 29 June, ethical travel provider Frontier offers the opportunity to follow in the footsteps of the revolutionary's infamous 1952 journey across South America, which became the inspiration for 2004's The Motorcycle Diaries starring Gael Garcia Bernal.

The film recounts the journey of Ernesto Guevara, a 23-year old medical student, through diverse and beguiling countries such as Argentina, Chile, Ecuador, Columbia and Venezuela. The scenes he witnessed across the continent moved him to become Che, the revolutionary.

Feeling inspired? Frontier offers a variety of trips and volunteer projects across South America.

The South America Ethical Adventure Trail (departs monthly, lasts 4 weeks, costs from £1495) offers the chance to transverse through Ecuador, Peru and Bolivia. In Ecuador, visit the contrasting city of Quito steeped in the pervasive history of the region yet oozing with bars and fiesta spirit; straddle the 'equator' at Mitad del Mundo; soak up the Ecuadorian vibe in the pastel-coloured, tree lined avenues of Banos; take in the sulphur baths in Cuenca or dip a toe in the Pacific at Montenitas.

The trip then ventures deeper into Inca territory and neighbouring Peru taking in Lima and then Cusco to begin an adventure into the ancient Incan heartland, Machu Picchu and the famous Inca Trail. Bolivia offers a chance to discover Uyuni with its mesmerising salt pans and Lake Titicaca with its floating islands - home to a community who have existed in this way for a thousand years before travelling finally to La Paz, the highest city in the world.

Frontier also offers a number of volunteer projects throughout the countries that Che travelled to including Argentina, Peru, Venezuela and Ecuador, in addition to Bolivia and Brazil.

Volunteer on one of Frontier's many teaching projects across South America in Argentina, Brazil, Ecuador and Peru and not only will volunteers learn some Spanish but they will also return home with a TEFL certificate that can be used anywhere in the world and is a great addition to any CV. Teaching projects in South America start from £895 for 4 weeks in Ecuador and Bolivia.

Frontier's many conservation projects offer volunteers the chance to work towards preserving and protecting threatened environments or animal species. Frontier-Brazil: Rainforest Adventure departs monthly, lasts 4, 8, 10 or 20 weeks, costs from £1195 for 4 weeks and £250 per additional week. Frontier-Venezuela Conservation departs weekly, last 1-6 months and costs £995 for 4 weeks and £200 per additional week. Work includes monitoring, cataloguing and recording plant and animal species. Volunteers also have the chance to further explore and enjoy the country.

Social projects are also available such as volunteering in one of Rio de Janeiro's orphanages on the Frontier-Brazil Orphanage Experience (departs monthly, lasts 4 weeks and costs from £1095) or rehabilitating and educating disabled and underprivileged children on the Frontier-Ecuador Child Care Centre programme (departs monthly, lasts a minimum of 2 weeks and costs from £995 for 4 weeks and £150 per additional week), based in Quito.

Frontier trips and projects include comprehensive pre-departure support, travel and medical advice and documentation, equipment advice, discounted kit and a free Frontier T-shirt as standard. In-country: included in the price is food, accommodation, airport transfers, ground transfers, local orientation, project training, project equipment 24-hour emergency support from project staff and representatives plus international HQ emergency support and backup. All prices above exclude flights.

For reservations or more information visit Frontier.ac.uk.