Plain sailing for Monaco Grand Prix fans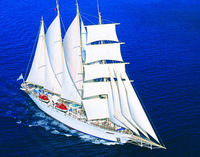 For the first time, the 170 passenger 'Star Flyer', one of the world's largest and most luxurious tall ships, will be anchored in the bay of Monaco on the day of the 2010 Monaco Grand Prix.

The ship will anchor outside the harbour at Monte Carlo within easy reach by tender of all the action and will be one of the most beautiful vessels on the scene with her graceful lines, four masts and teak decking.

Grand Prix fans wanting to enjoy the luxurious sailing can join the cruise for just £765 per person, based on 2 sharing.

Star Flyer is scheduled to depart from Cannes on 22nd May 2010 for the glamorous four night jet-set itinerary, sailing along the Cote d'Azur to Monte Carlo for the day of the race, after which she sets sail for Calvi, Corsica, an historic port surrounded by craggy, pine-clad mountains, before continuing her Mediterranean voyage to Portofino, one of Italy's most glamorous yacht harbours with some fine lunch spots and designer shopping. The jet-set break ends in Cannes on May 26.

Demand for the jet-set Grand Prix sailing is expected to be high, according to Alison Repoulios, general manager of Star Clippers in the UK.

Repoulios says: "Accommodation in Monaco is hugely expensive during the Grand Prix and chartering a private yacht is beyond the reach of most people, so to be able to offer this exciting opportunity to British clients for 2010 is something really special. Since the sailing was announced, we've already taken around twenty bookings and expect to sell out long before the cruise date."

Life is on board each of the three tall ships in the Star Clippers fleet is as it would be on a private yacht, with impeccable service and fine food in an informal, relaxed setting. Star Flyer has two plunge pools, the convivial deck-top Tropical Bar and a comfortable piano bar inside. Guests are free to help the crew raise the 3,365 square metres of sails – or simply to relax and soak up the sunshine.

The four night cruise Grand Prix cruise can be booked for £765 per person, based on 2 sharing a cabin, and including breakfast, lunch, dinner and four days sailing itinerary.

For more information, visit starclippers.co.uk.