Walking in rustic Sicily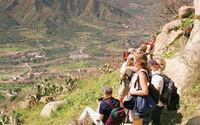 The UK's leading guided walking holidays' operator, Ramblers Worldwide Holidays, is offering a week walking tour in one of the most rustic and historical parts of Sicily.

The centre for this holiday is Francavilla, an unspoilt Sicilian town away from the hustle and bustle of the larger towns and cities and the perfect base for walking and excursions.

Nearby is Taormina, famous for its Greco-Roman theatre and commanding one of the finest views in Europe. Active volcano, Mount Etna forms a spectacular backdrop to the fertile vineyards and orange groves in the valleys below.

Here, on the rocky coastline where Ulysses voyaged, are sheltered beaches where one can swim in idyllic surroundings.

Included in the tour is an excursion to Mount Etna with a climb to one of its many subsidiary peaks – subject to local weather conditions.

In addition to all this is the opportunity to visit the ancient Greek city of Syracuse – home to Plato and Archimedes of "Eureka" fame.

Accommodation is at the Hotel d'Orange d'Alcantara – a family run hotel noted for its typical Sicilian family cooking.

Departing 3 October 2009 – price £639 per person includes return flights, transfers, half-board accommodation and the services of a tour leader.

For more information and reservations visit ramblersholidays.co.uk.