Year round ranching for a range of cowboys in Arizona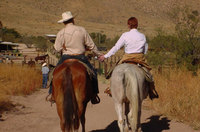 Temperatures in Arizona might exceed 100 degrees fahrenheit in the height of the summer, but from October to May the year round ranching state has a more amenable climate.

Tony Daly, Managing Director of Ranch Rider, comments: "Arizona sees its fair share of wannabe cowboys throughout the year, but the change in weather conditions from winter through spring time makes it ideal for older city slickers and parents with tots in tow. One of the major ranching states, Arizona also has a variety of options to chose from including, adult oriented stays, properties catering for those who want more in their way of creature comforts and wheelchair friendly homesteads."

You'll never be too old to ride at the Stagecoach Trails in Arizona, the 'no barriers' ranch coming complete with a mounting ramp for more senior cowboys. Its inclusive ethos extends to disabled riders, the entire property, from the accommodations to the swimming pool and hot tub being wheelchair accessible.

Side walkers are also available out on the trail, guests of all abilities being able to ride through the beautiful desert scenery of Yucca twice a day (except Sundays). £691pp (adults) and £555pp (children from four-11 years) including gratuities. Stay between 19 and 24 October and receive a 10% discount. 6-nights for only £525pp (based on two sharing), and 5-nights for only £409pp including gratuities. Excludes car hire from £229. Return flight from £499pp.

History buffs can soak up the Western ambience out on the trail at the adult orientated Grapevine Canyon Ranch (accepts children 12+). The remnants of at least two primitive Indian villages lie only a mile away from the property, while ancient petroglyphs dot the entrance to the nearby canyon. Secluded casitas, candlelit dinners and trail rides just for two (booked in advance) make the ranch ideal for honeymooners. Those looking to wed* over the winter months can also travel stateside and tie the knot under Arizona's sunny skies. From £891pp including gratuities. Excludes car hire from £229. Return flight from £489pp.

City slickers looking to swap their stilettos for spurs might want to book at the Tanque Verde. The resort ranch's 65 luxury casitas, pool, sauna, outdoor whirlpool and La Sonora Spa ensure a more exclusive Western experience. Breakfast, lunch and all day rides are complimented by all day packtrips and there is a supervised children's programme. The homestead also offers cutting and team penning, an activity that is more common to working ranches. The ranch accepts children from four and upwards. 15% off from now until 15 December. 7-nights only £923pp (save £126pp) including transfers and gratuities. Return flight from £489pp.

Other options include the Price Canyon in Portal, where riders can go in search of their inner cowboy (7-nights from £1,133pp including gratuities. Return flight from £489pp); the Kay El Bar in Wickenburg, a boutique guest ranch which takes a maximum of only 24 guests (50% discount off normal rates 29 November to 18 December 7-nights from only £485pp including gratuities. Excludes car hire from £229. Return flight from £469pp); and the White Stallion in Tucson, where ranchers can experience authentic western backdrops, dramatic scenes from the "High Chaparral" having been shot in the 100,000-acre game reserve (7-nights from £708pp including gratuities. Return flight from £489pp).

All prices (unless otherwise stated) include full board accommodation (based on two sharing) transfers/car hire, gratuities, all ranch based riding and activities. All prices are subject to availability.

Visit ranchrider.com for further information.

* Prior notice for weddings required. Further information is available from Ranch Rider.